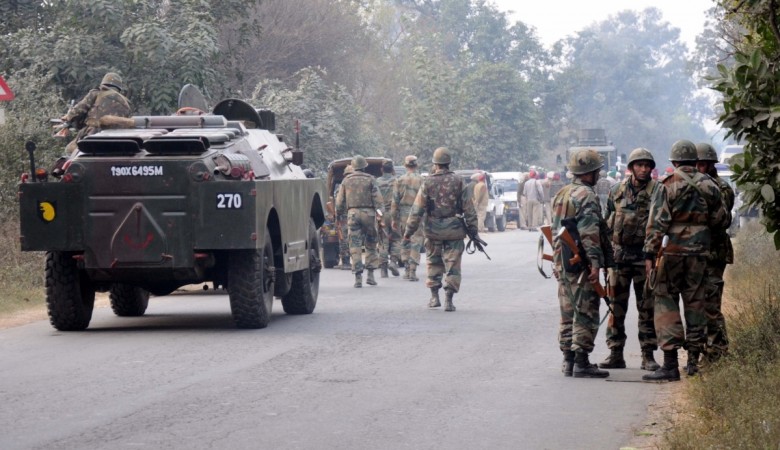 The Pakistani Rangers on Monday morning reportedly violated ceasefire and tried to infiltrate the Indian territory along the border in Punjab's Gurdaspur city.
Firing is still underway in Chakri village after a Border Security Force (BSF) post was attacked by terrorists early in the morning.
The police are carrying out search operations in Gurdaspur's Dorangla village after some suspected persons were seen.
"Terrorists tried to enter the camp but our forces retaliated and the terrorists fled. Search operations continue," Inspector General of BSF(Kashmir) Vikas Chandra told ANI.
"We've sounded alert on the border, where suspicious movement was seen. At present, everything is under control," IPS Officer Anil Paliwal told ANI.
This attack comes hours after a BSF jawan was killed and two others were injured in a terrorist attack on the army and BSF camps in the Baramulla district of Jammu and Kashmir located around 50 kms from Srinagar. Its is also being said that two army personnel were injured in the attack. Two terrorists were also neutralised in the attack that took place on Sunday night.
The injured jawan is out of danger and has been admitted to the Rashtriya Rifles camp hospital, the agency reported.
Terrorists launched an attack on the 46 Rashtriya Rifles army camp and the adjacent BSF camp in two groups around 10.30 pm on Sunday. Heavy firing followed after the BSF soldiers retaliated to the attack.
The army, following a gun battle that lasted for two hours, said that the situation was "contained and under control" and that a search operation was underway to secure the area, according to local media reports.
Reports suggest that the terrorists, three-four of them, entered the fringes of the BSF camp through a public park and might have entered the country through the Jhelum River. A few of them might have fled the spot following the attack.
Pakistan also violated ceasefire in the Akhnoor sector of Jammu and Kashmir on Sunday night.
#Baramulla Attack: Situation under control, search operation continues (visuals deferred) pic.twitter.com/LYekx3yGJr

— ANI (@ANI_news) October 3, 2016
#Baramulla Attack: Situation under control, search operation continues (visuals deferred) pic.twitter.com/X5GzIxa3Cy — ANI (@ANI_news) October 3, 2016
Baramulla attack: situation contained and under control, says Army, 2 BSF jawans injured (visuals deferred) pic.twitter.com/qNEPaRbl5M

— ANI (@ANI_news) October 2, 2016