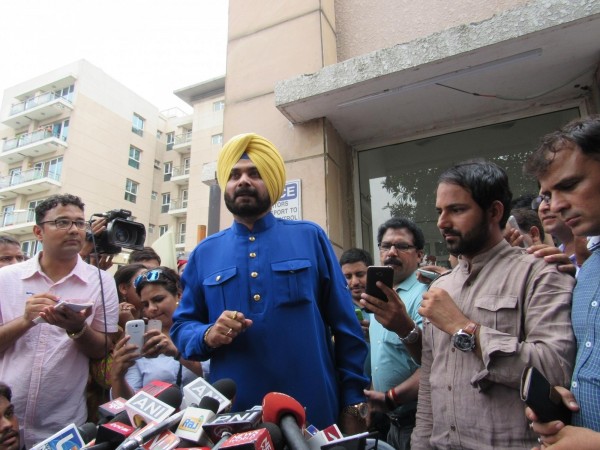 Cricketer-turned-politician Navjot Singh Sidhu, who had resigned from the BJP recently, is now expected to join a new party called the Awaz-e-Punjab, which he is expected lead in the state Assembly elections next year. The party is expected to be formally launched on Sept. 9.
The announcement came from Sidhu's wife, Navjot Kaur Sidhu, who posted a photo of the yet-to-be-launched outfit and its members on her Facebook page. Besides Sidhu, the party is expected to also have hockey legend Pargat Singh and Ludhiana-based politician Simarjit Singh Bains. Both Sidhu's wife and Bains are members of the current Punjab Assembly.
It may be noted that Sidhu had quit the BJP, on whose ticket he had been elected to the Rajya Sabha, amid rumours that he would join the Aam Aadmi Party (AAP) in Punjab. Rumours also swirled that not only would he lead the party in the polls but also be its chief ministerial candidate.
The AAP had hopes of performing quite well in the Punjab Assembly elections, because it seemed to have a good voter base there. In fact, all four members the party has in the Lok Sabha had been elected from Punjab. And Sidhu joining the AAP would have strengthened it quite a bit. However, Sidhu had neither confirmed nor denied any such development.
Subsequently, there were rumours that he could also join the Congress, which was looking to return to power in a state where the Shiromani Akali Dal and the BJP have a strong grip as of now. Had that happened, it would have indeed been a political coup of sorts.
However, it has now emerged that Sidhu will join this new party. Given the profile of the leaders in it, the Awaz-e-Punjab can be expected to be little more than an annoyance to the bigger parties in the state in the 2017 Assembly elections. However, if it performs well then, it could definitely eye a bigger slice of the pie in the next Assembly elections or even the 2019 general elections.
Here is the post from Navjot Kaur Sidhu's Facebook page: