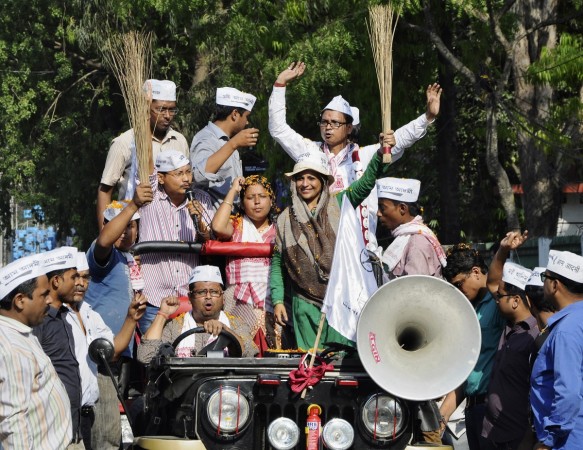 Naresh Yadav, an MLA of the Aam Aadmi Party (AAP) from Delhi's Mehrauli area, was on Saturday named in the First Information Report (FIR) related to the Quran desecration incident that took place in Malerkotla, Punjab.
The news comes just before Delhi Chief Minister Arvind Kejriwal's three-day visit to Punjab which begins on Sunday, the Indian Express reported.
Vijay Kumar, the alleged mastermind, confessed to the police that he had "desecrated" the holy book on the instructions of Yadav, who offered him a crore for the job. The police booked the MLA following the confession.
According to CNN News18, Kumar said that he met Yadav in Delhi and was instructed to tear the pages of the Quran and throw them near a drain on Khanna road in the Muslim-dominated town of Malerkotla in Punjab. Yadav wanted to instigate the people of Punjab on communal lines ahead of the 2017 polls so that AAP got the maximum votes.
The police had previously arrested three men — Vijay Kumar, Nand Kishore Goldy and Gaurav – all of whom had reportedly confessed to committing the act. The police was quoted by the daily as saying that Kumar wanted to "take revenge for Dinanagar and Pathankot terrorist attacks" and that he "hated Pakistan and Muslims", the IE reported.
The Zonal Secretary of the Vishwa Hindu Parishad in Pathankot, Nand Kishore and his son Gaurav, allegedly "helped" Vijay in the case.
The police had also recovered an Audi car which allegedly contained "torn pages" of the Quran while conducting raids in Delhi. The car reportedly belonged to Kumar.
Yadav has been booked under Indian Penal Code sections 109 (Punishment of abetment if the act abetted is committed in consequence and where no express provision is made for its punishment) and 153-A (Promoting enmity between different groups on grounds of religion, race, place of birth, residence, language, etc., and doing acts prejudicial to maintenance of harmony), the daily reported.
The MLA has denied all allegations. "I don't know this Vijay Kumar... The allegations are baseless and part of a conspiracy. I do not even know details of this case yet," Yadav was quoted by the IE as saying.
Sanjay Singh, spokesperson of the Aam Aadmi Party, defended Yadav claiming that the FIR was politically motivated. "SAD-BJP can see their defeat clearly in the upcoming polls, so our MLA is being falsely implicated to defame AAP. It is political vendetta," Singh was quoted by CNN News18 as saying.