Legendary filmmaker Bhagawan and musician Rajan Nagendra unveiled the audio and trailer of Puneeth Rajkumar's upcoming Kannada movie Anjani Putra (Anjaniputhraa) at Gnana Jyothi Auditorium in Bengaluru, on Friday, November 24. The event was started with the female members of the Rajkumar family lighting a lamp. [Watch the video of the event above]
Puneeth Rajkumar has ventured into the music market by starting his own label, PRK Audio. "I wanted to have my own label since childhood. I have ventured into the business not to compete with anyone, but to bring out quality songs," the Powerstar said at the audio launch-hosted by Kaavya Shastri.
Shivaraj Kumar's Tagaru and Kavalu Daari are the next two movies which have associated with PRK Audio, Puneeth Rajkumar revealed. Before launching the album, the actor entertained the guests by singing songs like Yendendigu ninna maretu and Gombe helutaite.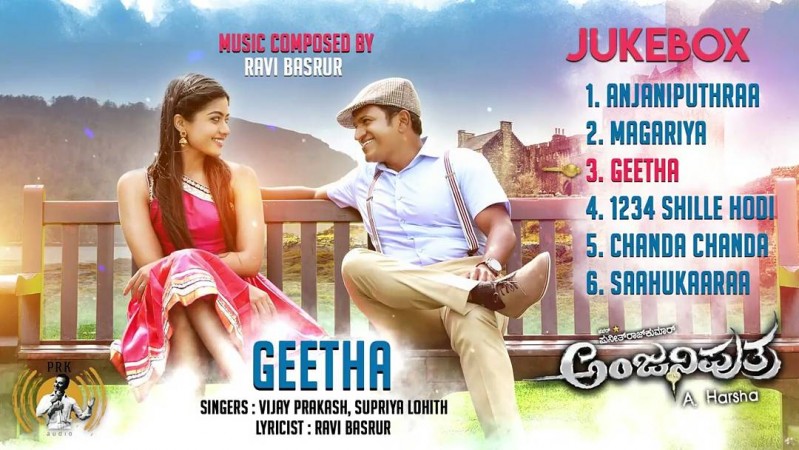 Shivaraj Kumar, Raghavendra Rajkumar, KFCC President Sa Ra Govindu, KCN Chandrashekhar, K Manju, Chinne Gowda, Gurudutt and a host of celebrities were spotted at the music-release event.
The audio of Anjani Putra was brought to the stage on a drone which was one of the attractions of the event. Puneeth Rajkumar also honoured the legends Bhagawan and Rajan Nagendra.
The movie has five songs and a theme track composed by Ravi Basrur. Puneeth Rajkumar, Vijay Prakash and a few others have lent their voices for the songs, while K Kalyan, Chethan Kumar (Barjari) and V Nagendra Prasad have contributed lyrics for the songs.
The A Harsha-directed movie has Rashmika Mandanna in the female lead role.