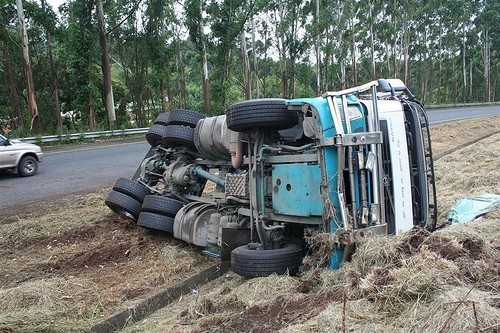 At least nine people have been killed and five others seriously injured in an accident involving an SUV and a truck on the Pune-Satara highway in Maharashtra.
According to PTI report, the tragic incident took place last night around 9.45 pm near the famous holiday destination Khandala, 45 kilometers from Satara.
As per the preliminary reports, the land cruiser was almost flattened by a truck container that had toppled on the highway. The driver of the truck had reportedly lost control during a steep turn.
There were at least 14 people travelling in the jeep. Nine were killed immediately in the accident. The victims have not been identified yet.
Police authorities from nearby areas rushed to the spot. The injured were taken to a local hospital in Shirwal, near Khandala, for treatment.
Officials said the death toll may rise as five people are in critical condition.
A recent study on highway accidents that took place last year by the police has shown that trucks are the biggest culprits.
As many as 63 percent of vehicles involved in highway accidents are trucks, including 30 percent of vehicles with at least one fatal occupant and 37 percent of vehicles with at least one seriously injured occupant. In highway accidents, cars are the most affected at 58 percent, which had at least one fatal occupant and 45 percent of vehicles that had at least one seriously injured occupant.
Accidents by hitting vehicles moving ahead, stopping or moving laterally in the same direction, accounted for 33 percent on Maharashtra highways.