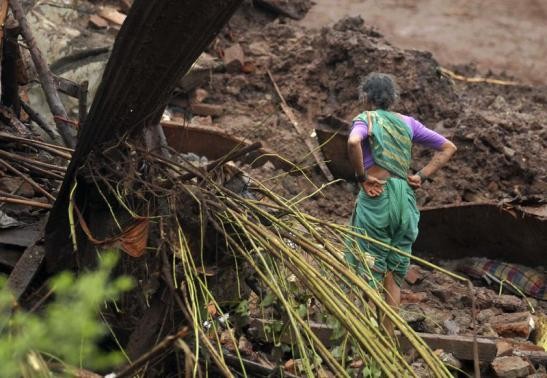 Lives of the 86 buried beneath the debris after the Pune landslide on 30 July could have been saved, if the Indian Meteorological Department had monitored a landslide alert declared on the NASA website a day before the disaster occured.
On the evening of 29 July, NASA had posted images on its website with alert marks in Malin and Bhimashankar regions. Identifying these areas as "strongly landslide prone", the agency marked that the places have been witnessing consistent rainfall above 175 mm.
Pune IMD senior scientist Dr S Pai accepted the negligence on their part but shifted the blame on to the Delhi department, saying that the foreign agency's website is monitored by Delhi IMD.
"This is something that IMD, Delhi, would monitor since it's from a foreign agency," DNA quoted Pai as saying.
Delhi, on the other hand, was quick to play down the blame as well.
"We don't need to go by NASA data. We also put out these maps in red and purple. How can that be looked at by the IMD? I think you should check with the Geological Survey of India" IMD Delhi's Weather Forecasting Director BP Yadav said.
Had the IMD or the government kept tabs on the NASA alert and had attended to it immediately, as many as 86 lost lives could have been saved.
While the authorities failed to track the NASA alert, the South Asian Network for Dams Rivers and People (SANDRP) monitored it and circulated it on its Facebook page.
"This region, nestled in the Northern Western Ghats, receives heavy rainfall during monsoons. It received very heavy rainfall in the week between July 25 and 31. If we can monitor these things despite limited resources, why can't the government do it?" SANDRP member Parineeta Dandekar stated.
Measures taken after the disaster took 86 lives
The ministers and geological departments started the inspection of the area and suggested measures to avoid any further mishaps, which if taken earlier could have saved several lives in the Malin village of Pune.
"How many villages like this exist we will have to enquire. We will conduct a survey all over Maharashtra. We will take a decision based on that, NDTV quoted Maharashtra's Relief and Rehabilitation Minister Patangrao Kadam.
Almost 25 plots were allotted to the tribes there, after cutting slopes and felling trees earlier this year, and a case has been registered against a local agriculture officer after the disaster hit the area.
"Some human intervention is there. I have come to know that there are some paddy plantations in the area. The slopes have been cut and there is environmental degradation. We cannot ignore that," stated Geological Survey of India Director General Harbans Singh.