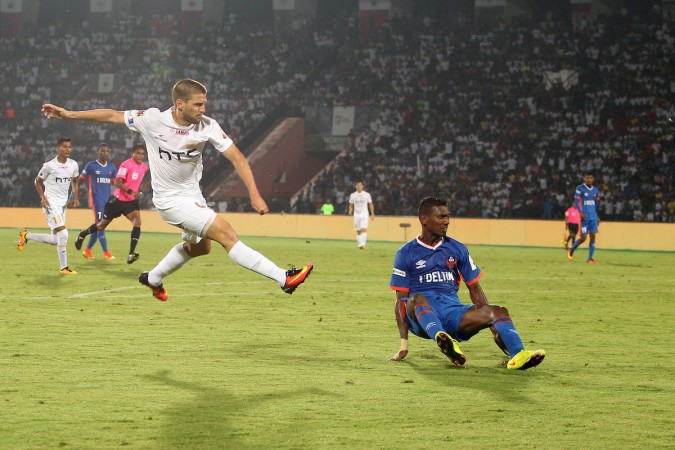 A team with a killer attacking intent (NorthEast United FC) go against a team who just doesn't want to concede goals (FC Pune City) in the ISL 2016 on Wednesday. Currently, Pune are fifth in the table following two matches, while the Guwahati-based side are second from four games.
Both sides have a defeat each in the competition so far.
For NorthEast United FC, the likes of Katsumi Yusa, Holicharan Narzary, Nico Velez and of course, Emiliano Alfaro will once again be in the front of things in the attack. Pune City, on the other hand, will be dependent on the goalkeeper Edel Bete as well as star defenders in Gouramangi Singh and Eduardo Ferreira, who have been really impressive so far.
"The first thing is try to finish with a clean sheet. Not to concede goals," said Pune City assistant coach Miguel, who is filling up the position for the suspended Antonio Habas. "That's where we have to improve.
"The second is to be more aggressive. The positive meaning of aggressive. More competitive on the field. That means we show to the opponent we are going after them from the first minute to the last. The positive meaning of aggression in line with the rules of the game."
Momar Ndoye's late goal and the impressive showing by Pune marquee player Momo Sissoko in their previous match against FC Goa gave the Hrithik Roshan co-owned side a lot of positives. And now, with the side playing three home games in a row, they have a major chance to make it to the top of the table.
"I respect Pune and they have a good team," said the experienced NorthEast United FC coach Nelo Vingada. "They got a good result in Goa. We need to reach the same level as we did in Mumbai [where Vingada's side were the more dominant force in the attack but unfortunately lost the game] and we should convert our chances."
NorthEast United marquee player Didier Zokora is expected to continue his momentum and do justice to the defensive midfielder role yet again in the Pune match.
Schedule
FC Goa vs Pune City is scheduled to kick off at 7 pm IST (2.30 pm BST) on October 12.
Where to watch live
India: TV - Star Sports 1/HD.
Star Gold, Star Utsav (Hindi).
Jalsha Movies (Bengali).
Asianet Movies (Malayalam).
Asianet Suvarna Plus (Kannada).
Live streaming - Hotstar.
Europe: TV - Star Gold.
Australia, USA: TV - Fox Sports
Canada: TV - CBN, ATN Bangla
Bangladesh: TV - Channel 9
South-East Asia: TV - Eurosport