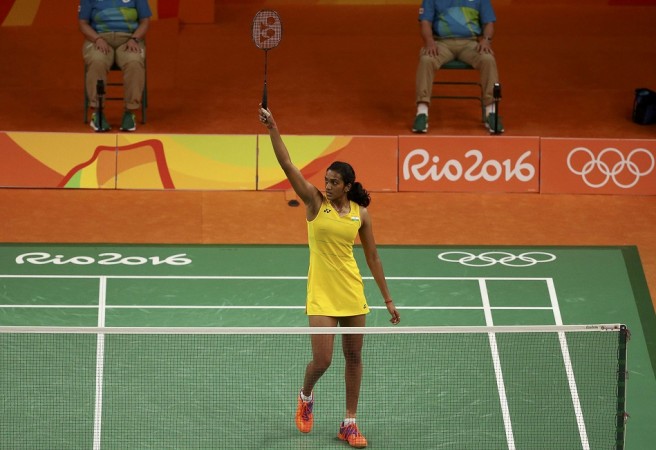 PV Sindhu gave the Indian fans a reason to smile after her silver medal-winning performance in the Olympics, and the shuttler is still basking in the Rio glory. Her coach Pullela Gopichand, however, believes she has a long way to go and needs to focus on her future to win more accolades.
With a sensational performance in Rio, where she defeated higher-ranked players to reach the final of the contest, Sindhu has gained respect from other competitors as well. The road ahead for the shuttler is not going to be an easy one, with top players from around the world keen to make an impression in major events.
Sindhu, despite her silver medal finish, is ranked world no.10, which explains the herculean task of moving up the charts. Though the Rio medal is Sindhu's best performance on the world stage, she has won medals in the World Championships (bronze in 2013 and 2014), besides third-place finishes in the 2014 Asian Games and Commonwealth Games.
With age, she is only 21, on her side, Gopichand believes Sindhu has the game to win more titles in the future.
"The reality is she needs to get back and become stronger in every area of her game. She's young, she's 21, and already has 2 world championships. Commonwealth, Asian Games and an Olympic medal to her credit. So she has a huge potential, and hopefully when we look at her career in 8 years' time, we should see many more medals and titles," espn.in quoted Gopichand as saying.
Sindhu has always been an aggressive player on court, but was criticised for her lack of consistency in the past. Sindhu continued playing her natural game in Rio, but she did not make as many mistakes in the Olympics, helping her to topple higher-ranked opponents.
The Hyderabad girl balanced her game perfectly, with right mix of smashes and net play to stun quality players.
"Well, I think on the big stage it is important to be aggressive when you need to be aggressive. But it needs to be smart enough to still be aware of what is happening around, it's not blind aggression or anger which goes in but it's the kind of aggression which is smart, which is calculated and which is as per plan," Gopichand said.
With Saina Nehwal, who suffered a first round exit from Rio due to injury, set to be out of action for around three months, Sindhu will carry India's flag in the badminton circuit, and all of India will hope for more success from the youngster.