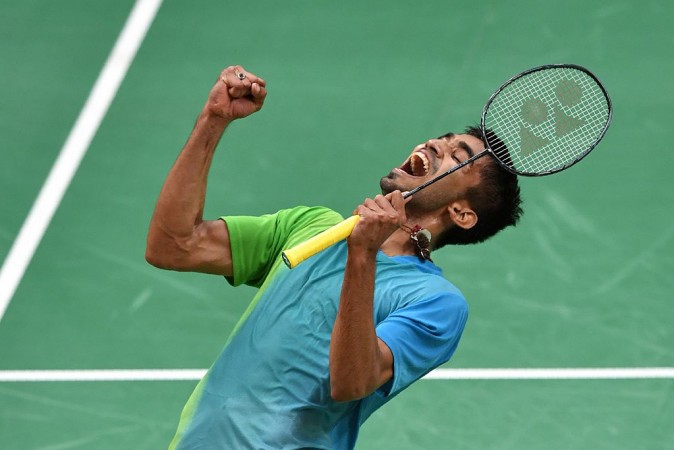 Scenes of joy dominated the Indian badminton camp at the Sydney Olympic Park Sports Center on Sunday, June 25, as Kidambi Srikanth made light work of reigning Olympic and world champion Chen Long in the final of Australian Open 2017 to win his second straight Superseries title.
Trailing 16-20 in the second game, Chen sent a return long and Srikanth did not even wait for the shuttle to land as he started celebrating his hard-earned win, before running to his coaching staff to exchange emotional hugs.
Despite not travelling with the support staff to Sydney, national chief coach Pullela Gopichand seems to be as elated as the shuttler himself. The former All England Badminton Championships winner says not just the win, but the manner in which Srikanth decimated the Chinese giant has given him a lot of joy.
Srikanth had lost all his five previous meetings to Chen, including two clashes in 2017 -- Sudirman Cup quarter-final Men's singles rubber in May and German Open R16 in February. However, on Sunday, the Indian shuttler looked a class apart and broke open his opponent's defence with an attacking masterclass.
"To beat Chen Long in the final of a big event is not easy. So, I am happy he pulled it off in two straight games. He [Srikanth] is looking a lot more mature now and I am very happy to see the way he is playing," Gopichand told International Business Times, India.
"To have a run like this is wonderful. Not only the win, but the way Srikanth won it and the players whom he beat to win back-to-back Super Series titles is something that is really satisfying."
Towards the end of of a tightly contested first game, Srikanth showed he was not overwhelmed by the occasion when he calmly guided Chen's strong smash across the net to win his second game point. The world number 11 made sure there was no need for a decider as he controlled the game with a beautiful mix of attack and solid defence and finished on the top step of the podium with a 22-20, 21-16 win.
Indonesian tactician Mulyo Handoyo reportedly said earlier this year that Srikanth reminded him of his legendary student Taufik Hidayat, but that the Indian shuttler lacked the power that the former Olympic champion was known for. However, on Sunday, the Guntur boy coupled power with caution as he broke Chen's spirits with his well-placed, fiery smashes.
After watching Srikanth's display in Sydney, Gopichand had no second thoughts in saying that the four-time Superseries winner possess one of the strongest attacking styles in world badminton.
"Power and strength do improve with time. There is definitely scope for improvement in all these aspects. But the difficult ones are the skill elements and the mental elements. Srikanth is good in these aspects. And he is getting stronger. Today when you look at the circuit, he has one of the strongest attacks in world badminton," Gopichand added.
With Sai Praneeth winning the Singapore Open earlier this year and HS Prannoy beating the likes of Lee Chong Wei and Chen in Indonesia, the Men's singles shuttlers are overshadowing the recent performances of Women's singles stars PV Sindhu and Saina Nehwal, who have been torch-bearers of Indian badminton.
Gopichand believes that the consistent results produced by the Men's singles shuttlers will inspire the rest of the team and will augur well for Indian badminton.
"I hope the Men's singles and Women's singles Indian players get inspiration from each other. Some of the doubles players are also doing well. So these wins at the highest level augurs well for the team as such," the 43-year-old said.
"No we will also be needing more coaches, more support personnel, more individualised attention, so it is getting tougher from our end as well."