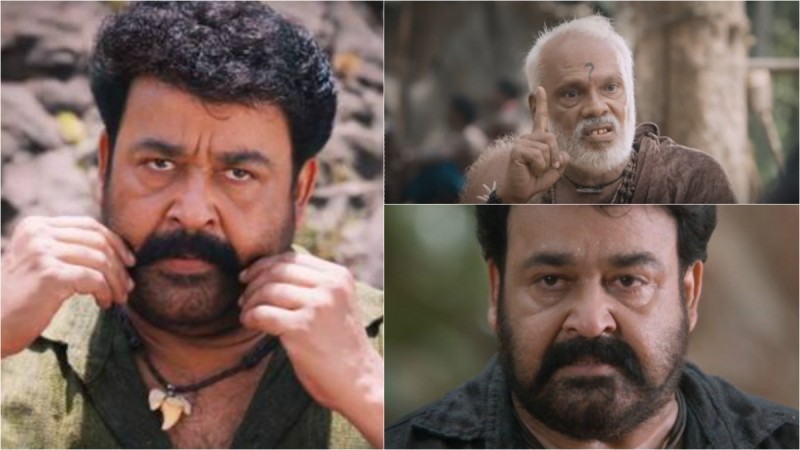 The latest Malayalam movie Pulimurugan starring Mohanlal in the lead has been making tremendous business at the Kerala box office. It is set to become one of the highest grossing movies in Mollywood despite pitting against megastar Mammootty's comedy entertainer Thoppil Joppan.
Though the action thriller, helmed by Vysakh, has opened to positive response from the fans of the superstar, it has also paved way for many memes, especially for a particular dialogue said by actor MR Gopakumar, who plays the role of a village chief in the thriller.
The hit dialogue kettarivinekaal valuthaanu Murugan enna satyam (which can be roughly translated as Murugan in reality is way more than what you hear) is being used for memes on the action thriller whi9ch are doing the rounds on social media.
While many have been lauding Mohanlal for enthralling the audience with never-seen-before action sequences and decent graphics, a session of the movie-goers tag Pulimurugan as the Malayalam version of a Telugu thriller with all masala elements just to hail the heroism of the lead actor.
Nevertheless, the Mohanlal-starrer has entered the Rs 20 crore club within three days of its release and is expected to be highest grossing Malayalam movie till date. The movie has already raked in a gross collection of Rs 87.95 lakh within six days from the multiplexes in Kochi alone with an average theatre occupancy of 99.25%.
Check the memes here:
Vijay Babu: Make a sentence using the word Sathyam (truth)
Gaurav Menon: Kettarivinekaal valuthaanu Murugan enna satyam (Murugan in reality is way more than what you hear)
Vijay Babu: Sheda (a word used to express surprise)
Sundaran in reality is way more than what you hear. He has taken the avatar of a killer to get rid of all the rats who eat passports.
-
Picture one: Girl as Pulimurugan trying to get sigh from her sir, who is an online promoter of the movie.
Picture two and three: He rewrites the box office collection figure of Pulimurugan to Rs 100 crore from Rs 10 crore.
Girl saying: Ayyo, buy it hasn't made Rs 100 crore.
Online promoter: It's okay. Anyway it is going to.
After watching Pulimurugan, I tried to attack my dog at home. Now, I am taking rest at home after getting 14 injection around the navel. The end.
Picture one: Vinayakan as a fan after watching Pulimurugan.
"Pulimurugan in reality is way more than what you hear. Come and you will understand that."
Picture two: Saiju Kurup as a pet cat
"Ayyo, I cannot."
Picture three: Vinayakan saying: "That's not possible, you too belong to the family of leopard. You somehow have to fight.