The release dates of first look and teaser of "Puli" were announced on Monday, 15 June. Director Chimbudevan revealed the important details on social media.
Photos: Vijay spotted at Singer Krish's Daughter Birthday
Chimbudevan said that the first look and teaser of the upcoming Tamil movie "Puli" will be released on 22 June to coincide with Vijay's birthday. But it will be released in the absence of the actor as he will be out of the country.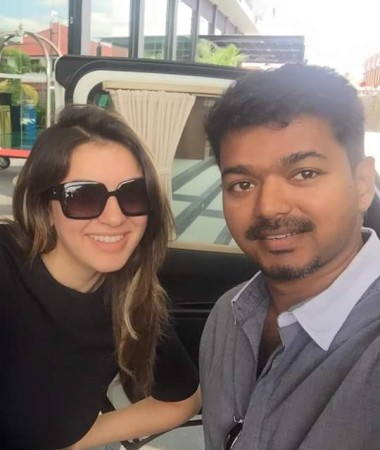 The actor is holidaying with his family in London. He will be back on 26 June. Therefore, the "Nanban" star's celebration is likely to be low this year.
But there are also chances of Vijay launching both the first look and teaser online from London.
Vijay Birthday Celebration
Vijay's fans' association had some grand plans for his birthday this year. But, after the actor informed that he would be out of the nation, they cancelled the pre-planned programmes. Nonetheless, social welfare activities by the actor's fans will continue like usual.
The director is busy with the post-production works of "Puli" and it is being completed in a rapid pace. The shooting of the movie was completed last month and now the film is likely to appear before the audience earlier than expected.
It was earlier said that "Puli" would release on Ganesh Chaturthi in September. But now, there are chances of the movie hitting the screens on 15 August. It is a fantasy-adventure film, which has Kiccha Sudeep, Shruti Haasan, Hansika Motwani and Sridevi in key roles.