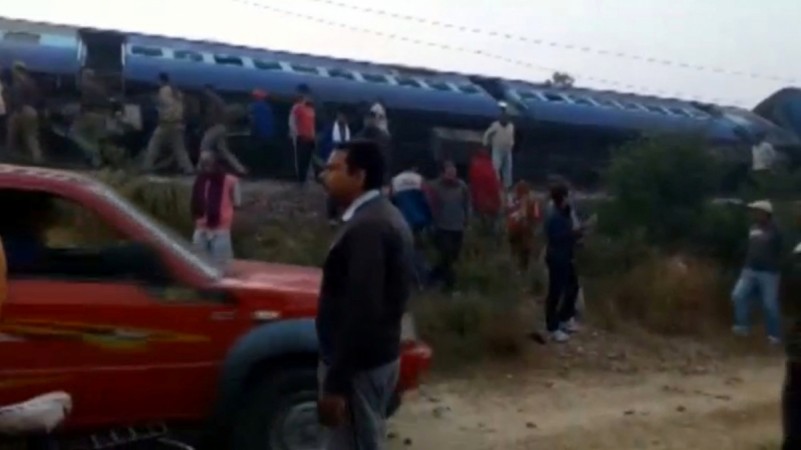 At least 120 people died in Pukhrayan near Kanpur after 14 coaches of a Patna-Indore express derailed. Relief and rescue operations are underway and the death toll is expected to increase.
Bodies of 30 people have been recovered so far from the accident spot, said Inspector-General Kanpur, Zaki Ahmed. At least 76 people are severely injured.
Doctors and senior railway officials have arrived at the location, said Northern Central Railways spokesperson Vijay Kumar. District administration officials also reached the spot for rescue and relief operations.
The chief minister of Uttar Pradesh, Akhilesh Yadav, has directed the DGP to monitor the relief operations personally.
"Senior officials and medical team have been rushed to the spot; we are in contact with district officials", said A Saxena, Indian Railways spokesperson.
15: 28 pm IST: Kanpur train tragedy is one of the biggest rail accident ever. According to information it was a rail fracture, but rescue operations still underway, said Sumitra Mahajan.
14: 44 pm IST: Unfortunate incident; we stand with the families of those who died in the accident, said Samajwadi Party leader Shivpal Yadav.
14: 13 pm IST: More than 100 people have died, rescue operation is still underway: Daljeet Singh Chaudhary (ADG, Law & order ,UP).
13:15 pm IST: Madhya Pradesh CM Shivraj Singh Chouhan leaves for Kanpur to meet the injured and take stock of the situation.
12: 45 pm IST: When I was informed about the incident, i directed concerned officials to rush to the spot and conduct primary rescue operations. All resources are in place; priority right now is only to save and rescue as many people as possible. I spoke to Railway Minister and have assured that State Govt will provide whatever help needed in the rescue operations; politics can wait, said UP CM Akhilesh Yadav.
12: 31 pm IST: Two coaches are completely smashed; 97 bodies recovered till now: Kanpur divisional commissioner Mohammad Iftikharuddin said.
12: 12 pm IST: At least 96 people were killed and 76 were seriously injured. There are 150 others who suffered minor injuries, said IG (Kanpur range) Zaki Ahmad.
12: 04 pm IST: Important helpline numbers:
#KanpurTrainAccident महत्त्वपूर्ण हेल्पलाइन नम्बर, कृपया retweet करें एवं सोशल मीडिया पर साझा करेंl pic.twitter.com/mjegZHy75E

— UP POLICE (@Uppolice) November 20, 2016
12:03 pm IST: Unfortunate; pained at the death of citizens.I pray for the bereaved families and the injured passengers, said top Cabinet minister Venkaiah Naidu.
12:00 pm IST:

#PatnaIndoreExpress derailment: Injured being taken to hospital for treatment in Kanpur (UP); 95 dead, over 150 injured. pic.twitter.com/3NLlEfwSdl

— ANI UP (@ANINewsUP) November 20, 2016
11:40 am IST: Help desk set up at Patna railway station to assist family members of those onboard in Patna Indore Express that derailed near Kanpur.
11:39 am IST: Death toll increases to 95.
11:35 am IST: PM Modi announces ex gratia of Rs 2 lakhs for next of kin of deceased, Rs. 50,000 for those seriously injured.
11:22 am IST: I shall be rushing to the accident site to personally monitor the situation, said Railway Minister Suresh Prabhu.
11: 21 am IST: UP CM Akhilesh announces ex-gratia of Rs 5L each for families of dead and Rs 50000 for seriously injured. MP CM announces Rs 2 lakh compensation for the families of deceased; Rs 50,000 for those critically injured.
10:23 am IST: Right now we are trying to identify the one's who are injured from Patna so that we can inform the family members, said SP, Railway Police.
10:10 am IST: Enhanced amount of ex-gratia compensation is being given to the victims of this unfortunate accident:Rs.3.5 lakh in case of death. Rs.50,000 in case of grievous injury and Rs.25,000 in case of simple injury. This is in addition to the compensation which will be available through Railway Claims Tribunal, tweeted Suresh Prabhu.
9:59 am IST: People still trapped in coaches, said police officials.
9:57 am IST: Almost 250 jawans including personnel from paramilitary forces have been roped in for rescue operations.
9: 55 am IST: Deeply pained by the loss of lives caused due to Patna-Indore express train derailment; my thoughts with bereaved families, said Bihar Chief Minister Nitish Kumar.
9: 46 am IST: Additional Divisional Railway Manager and CMS Jhansi have reached site with the team. 90 of the injured have been shifted to PHC Pokharaya, CHCh Mati. Railway minister Suresh Prabhu personally monitoring the situation.
9: 28 am IST:

#WATCH: Police, NDRF teams conduct rescue & relief ops after Patna-Indore express train derailed near Kanpur, UP. 63 dead, over 150 injured. pic.twitter.com/prH9ULLhWH

— ANI UP (@ANINewsUP) November 20, 2016
9:19 am IST: Multiple trains have been affected due to the accident.
Patna-Indore express train derailment: Train numbers 12107, 11124, 19167, 11015, 11016, 12104, 12511 diverted; Train no 11123 cancelled.

— ANI UP (@ANINewsUP) November 20, 2016
9:17 am IST: The death toll has increased to 63 and over 150 people were injured.Stranded passengers were being moved from accident site to Malasa station. A special train from Malasa will take the passengers further. The injured passengers were moved to Kanpur Dehat hospital, tweeted Suresh Prabhu.
9:14 am IST:
9:09 am IST: Ex gratia will be given to families of dead passenger and to the injured. The reason for the derailment is not known. The enquiry team will start investigation for cause of accident immediately. All necessary assistance has been provided to the affected. Strictest possible action will be taken against those who could be responsible for accident. All possible mobilisation for relief initiated, tweeted Railway Minister Suresh Prabhu.
8:52 am IST: UP CM Akhilesh Yadav directed the Uttar Pradesh principal secretary of health to ensure there's no shortage of medicines and blood for treatment of patients.