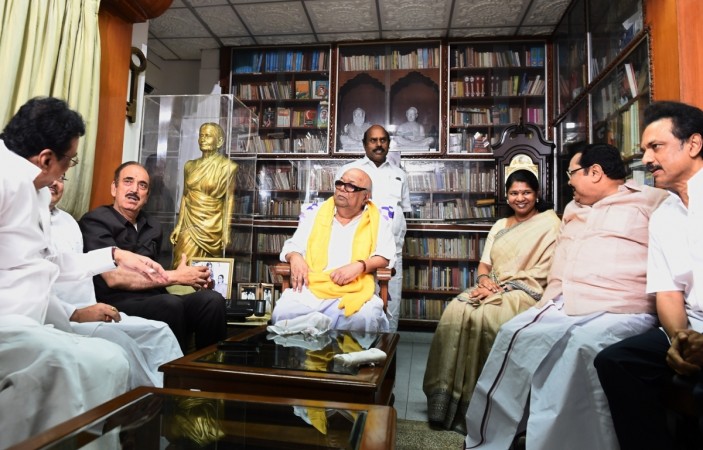 M Karunanidhi-led Dravida Munnetra Kazhagam (DMK) announced its candidate list for the Puducherry Assembly elections due on May 16, 2016. The DMK would contest nine seats while the Congress would contest 21 seats in the 30-seat Assembly.
The last date for filing nominations for the upcoming elections is April 29. Elections in Puducherry and Tamil Nadu will take place on the same day.
"Following instructions and suggestion from our high command, we finalised the seats to be contested by both the Congress and DMK. Both the parties will work in close coordination to bring the Congress back to power," Puducherry Pradesh Congress Committee (PPCC) President A. Namassivayam was quoted as saying by the Hindu.
The DMK will be contesting elections in Muthialpettai, Mannadipattu, Urulayanpettai, Uppalam, Mangalam, Muthaliyarpettai, Karaikkal South, Thattanchavady and Neravi-Thiru-Pattinam constituencies.
From Karaikkal South, the current MLA AMH Nazim will be contesting again, while A Geetha Anandan will be fighting the seat in Neravi-Thiru-Pattinam.
The PPCC fielded fresh faces for the Assembly elections, for which interviews were carried out in March, the Hindu reported.
The DMK and the Congress tied up for the elections in Tamil Nadu as well. The Congress will be contesting in 41 seats there.
The current Chief Minister of Pudhucherry, N Rangaswamy, is the leader of All India NR Congress, which had been formed after he defaulted from the Indian National Congress.
The Aam Aadmi Party, which had said it would contest elections in the Union Territory, has withdrawn from the political battle in the region. It will also not be contesting in Tamil Nadu unlike its earlier claims, the Economic Times reported.