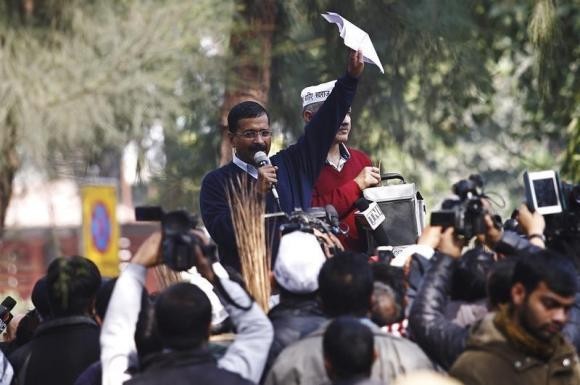 A day after Delhi Chief Minister resigned when his push for the anti-corruption Jan Lokpal Bill was blocked in the state legislature by members from Congress and BJP, public have taken to social media to express their views on the 45-year-old's decision to give up his position.
A spate of tweets has surfaced on the micro-blogging site, attacking the Aam Aadmi Party Chief's decision to quit as the CM for what has been widely believed to be insignificant reason. Majority of critics from both the political spear as well as from the public, tend to believe that there wasn't really a need for Kejriwal to resign.
Kejriwal, who resigned on Friday evening; less than two months after he took oath as the Chief Minister of Delhi, has said that the Jan Lokpal bill has been the most vital part of his party's manifesto. He has added that it is essential to cleanse the political system of deep-rooted corruption.
After Kejriwal walked out of the assembly, he addressed his supporters at his party office in pouring rain and announced his resignation. Kejriwal had earlier threatened in more than one occasion to give up the Chief Minister's office if the bill was not passed.
"I will give up the chief minister's office not once but 1000 times to fight against corruption," he had said.
Kejriwal was reported to have met the Lieutenant Governor Najeeb Jung to hand over the resignation of his cabinet, after his dramatic announcement Friday evening. He has also reportedly recommended the LG that the assembly be dissolved and fresh polls be held.
While many people feel that the AAP, composed mainly of anti-corruption activists, will return to power with fresh energy once a re-election is held; there are others who have said that the fact that he quit his office only signifies that he is 'running away' from responsibilities.
Meanwhile, twitter users have been strongly reacting to the news. The hash tag #BhagodaKejri tends to mostly attack Kejriwal's decision to resign while also finding humor in the entire episode that has unfolded. The hash tag has been the most trending topic on Twitter since Friday evening and was still in the top trending list until most of Saturday.
Let's take a look at the top 10 strongest and funniest reactions:
A user with the profile name Deepak Mohanty said, "I'm not too sure if it will be a fight between Modi and Kejriwal, as the later had already shown his true self. #BhagodaKejri"
Drunk Monk said, "Meanwile, Girls breathed a heavy sign of relief as no one will now call their Armani scarf as "Muffler" anymore. #BhagodaKejri".
Chetan Bhagat, the famous author, columnist and speaker wrote a lyrics of a famous Hindi song to express what he feels about Kejriwal. "Kya hua, tera vaada. Voh kasam, voh iraada..." he said adding, "feels like someone just quit at the Rs 5,000 question in KBC, without using any lifeline".
"Kejriwal is like that employee who wants to resign in hope of being rehired at higher salary. Will the employer oblige #BhagodaKejri?" said India Policy
Another user named 'Atheist Krishna' said," Once Kejriwal becomes PM...he will plan out an escape route and dissolve the govt..in 50 days to contest for President of USA #BhagodaKejri".
Take a look below at some more funny tweets and memes:
This is how I brought a lot of transparency in Delhi #Bhagodakejri pic.twitter.com/DZegFYJI8K

— Keisar (@Kesar_) February 15, 2014
Since @ArvindKejriwal has already Gifted his muffler to Mautarma #Dharna wonder how vl #BhagodaKejri vl hide his face pic.twitter.com/ygtIOTRJeF — सौभाग्यवती ChaiVali (@Tan_Tripathi) February 15, 2014
#PaltuKejriwal said no VVIP treatment..but enjoying VVIP status! #BhagodaKejri pic.twitter.com/VMBIN4NTP8

— Aap Chor Hain (@AapChorHain) February 15, 2014
RT @SurajitDasgupta Truism from #BhagodaKejri pic.twitter.com/8ykqTVyrfk — Sandip Mandalia (@S_Mandalia) February 15, 2014
After Bhag Milkha Bhag ...we have another superhit runner... #BhagodaKejri

— Chans (@Chans_02) February 15, 2014