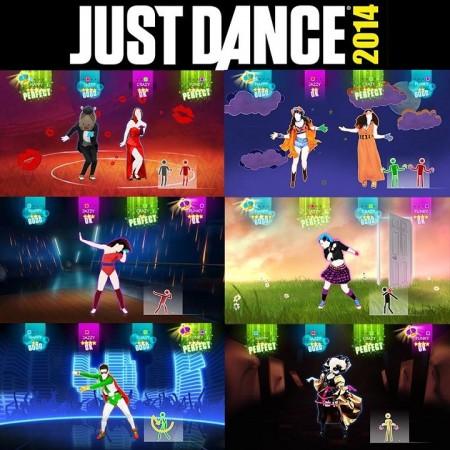 Just Dance 2014, Ubisoft's fifth title run of the popular Just Dance video game series, has released its full tracklist ranging from pop, hip-hop, R&B, funk and rock music. Ubisoft has included a huge list of tracks numbering more than 45 from top artists in this new game.
Song tracks from some of the world-renowned artists like Lady Gaga, Daft Punk, Psy, One Direction and Nicki Minaj are included in the list. Top songs include Lady Gaga's "Applause," Robin Thicke's "Blurred Lines", One Direction's "Kiss You", Daft Punk Ft. Pharrell Williams' "Get Lucky" and "Starships" by Nicki Minaj.
The game will be able to support up to six players with modes from previous games like Classic and new ones like On Stage mode. The game also has Party Master mode and Custom Sweat mode. Players can sing along to the songs with the Karaoke mode on consoles.
The game includes for the first time an online multiplayer mode called World Dance Floor, where users can play as a crew and check out where they stand in the global leaderboards and community updates.
The game will hit shelves in Oct. 8 for Wii, Wii U, PlayStation 3 and Xbox 360.
Below is the complete list of the tracks that will be featured in the game (Just Dance 2014):
Gimme! Gimme! Gimme! (A Man After Midnight) - ABBA
Dançando - Ivete Sangalo (NCSA-only track)
The Way - Ariana Grande Ft. Mac Miller
Could You Be Loved - Bob Marley
Isidora - Bog Bog Orkestar
Fine China - Chris Brown
Limbo - Daddy Yankee
Get Lucky - Daft Punk Ft. Pharrell Williams
Moskau - Dancing Bros.
She Wolf (Falling To Pieces) - David Guetta Ft. Sia
Prince Ali - Disney's Aladdin
It's You - Duck Sauce
Turn Up The Love - Far East Movement Ft. Cover Drive
Signorini (Eroe Nazionale) - Fedez (EMEA-only track)
The Love Boat - Frankie Bostello
Careless Whisper - George Michael
I Will Survive - Gloria Gaynor
Rich Girl - Gwen Stefani Ft. Eve
Feel So Right - Imposs Ft. Konshens
Wild - Jessie J Ft. Big Sean
I Kissed A Girl - Katy Perry
C'mon - Ke$ha
The Other Side - Jason Derulo (US-only track)
Applause - Lady Gaga
Just Dance - Lady Gaga Ft. Colby O'Donis
Just A Gigolo - Louis Prima
Blame It On The Boogie - Mick Jackson
In The Summertime - Mungo Jerry
Pound The Alarm - Nicki Minaj
Starships - Nicki Minaj
Troublemaker - Olly Murs Ft. Flo Rida
Kiss You - One Direction
Feel This Moment - Pitbull Ft. Christina Aguilera
Gentleman - Psy
Ghostbusters - Ray Parker Jr.
Maria - Ricky Martin
Where Have You Been - Rihanna
Candy - Robbie Williams
Blurred Lines - Robin Thicke Ft. Pharrell
99 Luftballons - Rutschen Planeten
Miss Understood - Sammie
Nitro Bot - Sentai Express
Danse (Pop version) - TAL (EMEA-only track)
Flashdance...What A Feeling - The Girly Team
Aquarius/Let The Sunshine In - The Sunlight Shakers
Y.M.C.A. - Village People
#thatPOWER - will.i.am Ft. Justin Bieber
Follow The Leader - Wisin & Yandel Ft. Jennifer Lopez
(YouTube Courtesy: justdanceGB)