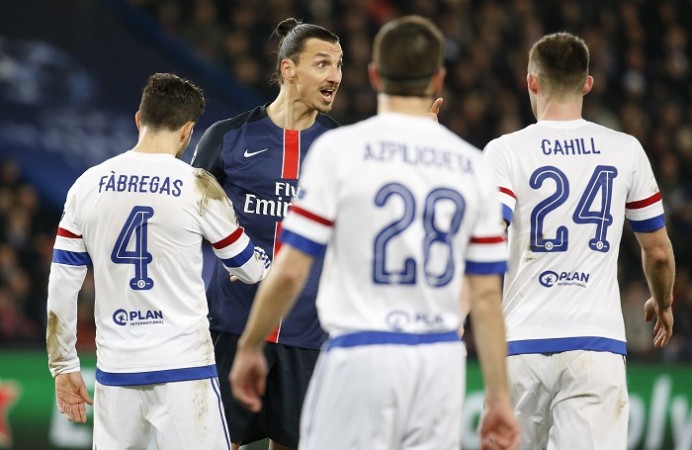 Guus Hiddink believes the Champions League last 16 tie against PSG is "50-50", after Chelsea picked up a vital away goal at the Parc des Princes on Tuesday.
The Blues were heading for what would have been a fabulous draw, after John Obi Mikel had equalised after Zlatan Ibrahimovic scored the opening goal. However, substitute Edinson Cavani struck 12 minutes from time to give PSG a 2-1 victory.
The away goal, though, means Chelsea are still very much in this tie, with a 1-0 win in the second leg at Stamford Bridge enough to see them through to the quarterfinals.
"I think it's still 50-50," a relatively satisfied Hiddink told the club's official website. "Of course a defeat is never a good or a nice feeling but you have to consider it's a two-legged game.
"Scoring away is always good and we emphasise that. We had good, tactical defensive organisation. On top of that we were dangerous but we were not lethal with the four or five counters we had. It's not a dramatic loss. Losing 2-1, we are still in the race."
That is something PSG manager Laurent Blanc would have liked to avoid, after PSG dominated large parts of the game. With Ibrahimovic scoring six minutes before the break, Blanc would have envisaged giving a well-played-let's-keep-it-going halftime speech, only for Mikel to turn that around completely by scoring in the first minute of stoppage time.
"At halftime I was very upset because of the goal we conceded just seconds before the whistle," Blanc was quoted as saying by UEFA's official website. "It's one of our biggest regrets. We had the opportunity to keep the ball but we gave it away easily, then we conceded two corner kicks and then that goal.
"When you're playing at home that you need to be at your best defensively, so as not to concede the famous away goal. It's tricky because Chelsea did score that goal, but it's now up to us to go to Stamford Bridge with the ambition to score.
"It'll be difficult because we'll have to defend of course, but we have the quality to score there.
"Let's be honest, Chelsea had some chances and [PSG goalkeeper] Kevin [Trapp] made some good saves, but being one goal ahead does not provide a fair reflection of our very good performance."
What Blanc was happy about, though, was with the Cavani goal, with the PSG manager reserving special praise for the Uruguay international, who has not quite been able to sprinkle magic dust often enough since his move from Napoli, with the transfer rumour mill constantly linking him with a move away from Paris and quite often to the English Premier League.
"I'm very happy for Cavi, but it would have been the same no matter who scored," Blanc added. "I keep repeating, he's a lad with huge talent. He's been through hard times but I hope this goal will give him confidence again. I'm encouraging all my players, and him in particular."