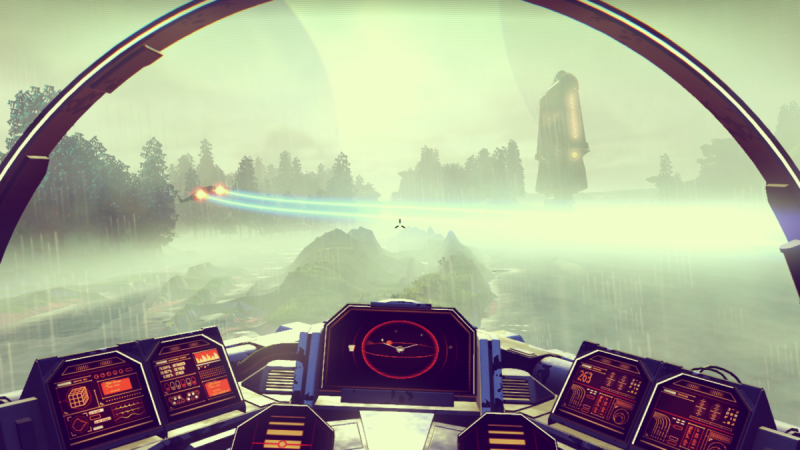 Upcoming PlayStation 4 exclusive No Man's Sky is easily set to become one of the most innovative games of 2015. With a release date rumoured for August 2015, this inter-planetary exploration-based title could turn out to be the second biggest reason to splurge on a brand new PS4 this summer over an Xbox One.
To be very honest, No Man's Sky was announced to the world as a sort of revelation at last year's E3. This PS4 exclusive not only managed to climb its way up in the charts rating top upcoming games, but is also one of a kind title that has drawn quite a few inquisitive eyes to date.
With rumours broadly speaking about a potential August 2015 release for the title developed by Hello Games, we are taking a quick look and rounding up all the things we know about the game so far.
Continually-expanding Universe
Since space exploration remains the core of the game, expect an expansive universe that won't stop surprising you after few hours of gameplay. The game will allow players visit all the planet universe and venture into all sorts of environments. In fact, going by art director Grant Duncan's recent interview with Polygon, the developers built a space probe to explore each of the game's 18 quintillion worlds. The probe will document its interstellar travels via videos and animated GIFs. Also, the probe is said to comprise algorithms and codes, made up of what Duncan calls the "seeds," that will make each of the worlds in the game unique.
The '2001: A Space Odyssey' Connection
This one is a comparatively minor feature but would bring happiness to a lot of Stanley Kubrick fans, looking to play the title on release. Apparently, No Man's Sky, according to a previous Game Informer (January 2015 edition) report, is said to kick off with a "wildly abstract" intro sequence that's been inspired by the ending of 2001: A Space Odyssey. This is not so major a feature, although there will be some interest on how the movie might inspire the game.
Game Narrative? Depends on How You Play
It's not that No Man's Sky is just a drab hyper jump-oriented drive around the space (still a good deal) with no human touch whatsoever. In fact, the game will indeed offer a narrative scheme with it, revealing the reason for the player's presence in the game and the activities they perform. The narrative will also offer knowledge about the various preceding races before the player's time, although there's a catch. The player won't just be handed the narrative down. Rather, the player will have to explore the universe and piece his or her own narrative. Each player is guaranteed to his or her own unique interpretation of time and space via explorations.
Everything is Procedurally Generated
The game is huge, both in terms of presence as well as exploration. Hence, almost everything in No Man's Sky is procedurally generated. Be it ships, plants, animals or planets, everything falls in the same category. This also means that there will be a large number of variations for each of those things mentioned above. However, it is important to note that all the variations come from a base model, and it is highly likely that there will be a lot of base models in each of the categories.
Purely Exploration Oriented
Just because No Man's Sky is an open-world (or open-universe?) title, it doesn't mean that you can expect varied "stuff" that you do on other such open titles such as GTA 5. The game is purely about exploration with the developers hoping that naturally driven curiosity to explore and the elements-rich planets will keep players hooked on to the game. Also, there are no such missions or 'quests' that you will be bound to play, and rather it will be down to your interest and liking that will drive you through space and time.
No Save Games
This is one of those small things that might leave a bit of sour taste in the mouths of the gamers, but according to the developers, there's no 'Save Game' system in No Man's Sky. "There is no saved game. Your game will be saved, your progress is saved all the time as you go along, but if your ship is destroyed then you go back to a lifepod and you've lost that ship, and that is your everything,"said Sean Murray, lead developer on No Man's Sky. At least, the game is not pushing you way back to the start of the game if you die.
Friends Location/Stats on Galaxy Map
No Man's Sky will allow players to see friends' location and stats on galaxy map. While an in-game messaging system has been teased, reports claim that if you fly past another player, you might never even know if it's a real person or not. However if you do see another player, it'll be the first time you realize what your own character actually looks like. However, you'll still just see their suit, not what's inside.
Keep Playing After Game is Over
With No Man's Sky, it is said that there will be a 'compelling' reason to head towards the centre of the galaxy. Apart from that, there will also be an ending that will provide the player with a sense of closure. However, there will be a reason to continue playing even after that ending.
No Monkey Business in Space
Apparently, the game will chart and keep tabs on the kind of person you are, and there's bad news if you are a nifty little troublemaker. Reports state that if you start attacking other ships, then the station in that system is eligible to release the galactic police force on you. The police force will remember you and is more likely to attack you, even if unprovoked, in the future. This also goes for the various factions in the game that will respond based on how you treat them.
Charles Darwin Would Have Been Proud
Going by what we have heard, as far as allocating diverse life forms on different planets is concerned, the planets within the universe are said to have a 10% chance of having life on them, with 90% of them having no life on at all. Of the 10% that does have life, a major part of it will consist of primitive and boring life forms (like us, a few billion years ago). This means that the lush garden worlds in the universe with more evolved life forms will be rare, but open for exploration.
No Man's Sky is still sometime away, but you can get even more details about the game on Reddit. Here's the Star Wars theme to set the mood up for you in the meantime, though.