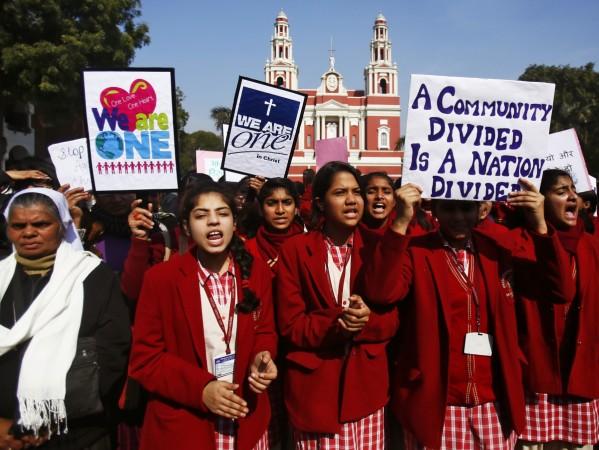 The national capital witnessed some ugly scenes on Thursday with policemen taking on angry protesters demonstrating against police inaction with regard to the recent spate of church attacks in Delhi. Not even children were spared as they along with priests and nuns were dragged into buses.
Police called the protest outside the Sacred Heart cathedral in the heart of the city "unlawful".
Among those forced into the buses was spokesperson of Delhi Catholic Archdiocese, Father Dominic Emanuel, reports NDTV.
"What kind of justice is this? Shame on the police. The Prime Minister speaks on everything, why not on this?" said one of the priests who was part of the protest.
The protesters were vastly outnumbered by the police and the bustle which followed caused traffic jams in one of the capital's busiest commercial areas.
The silent march organised by various Christian groups was slated to go right up to Home Minister Rajnath Singh's doorstep.
Reacting to the unsavoury turn of events, senior police officer Mukesh Kumar Meena said, "We are detaining people. No one has the right to protest on the road. They can't just march to the home minister's residence. We have to protect the residence of VIPs." He added that security had been tightened ahead of the Delhi assembly polls on Saturday while admitting that there were no prohibitory orders in place.
Five church attacks have taken place in the capital city since December.
Some Christian groups are calling them orchestrated and feel the police are not doing the needful.