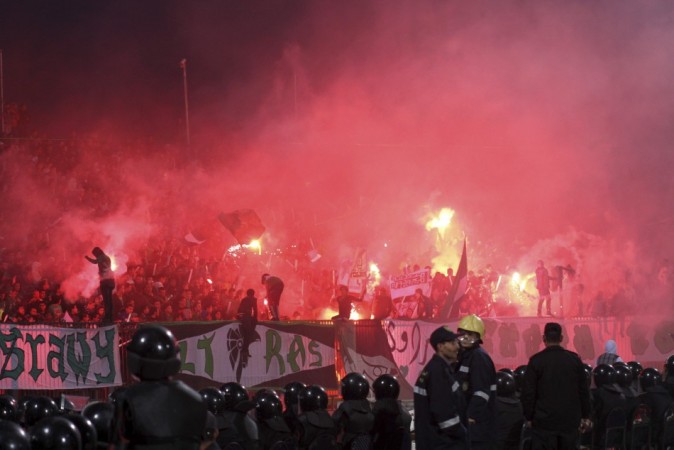 A protest against the decision to resume the country's league games next month before bringing perpetrators of a deadly stadium riot to justice, turned violent with about 300 people protestors storming Egypt's Football Association headquarters in Cairo on Wednesday.
Egypt witnessed a bloody riot in February 1 this year after fans clashed inside a stadium in the city of Port Said following the defeat of Egypt's most successful club Al-Ahly to local team Al-Masry 1-3 that killed 74 people and injured at least 1000.
In a fresh violence on Wednesday, the protestors stormed Egypt's Football Association headquarters, smashed cars belonging to the employees and vandalized the office.
Fans alleged that Al-Masry supporters attacked the Al-Ahly fans. Adding more fuel to the fire, the lights were allegedly swifted off and the police present in the stadium looked instead of controlling the situation.
The head of state security in Port Said and the board of the Egyptian Football Association were fired following the incident and a parliamentary inquiry blamed the police and fans for the death of 74 people.
75 people including nine security personnel are under trial in connection with the stadium riots.
The federation shut down the league games after the incident but recently decided to resume although they were not sure whether to allow the fans to watch the matches.
The security forces are now refusing to oversee top-flight matches, forcing the sport's governing body to scrap the rest of the season. Many fans agree the cancellation was inevitable, but for some people it sends a message that lawlessness has won, reported Reuters.
"Match security is the easiest task for police if it's done with an efficient plan," Foad Allam, a former police general and security expert told Reuters. "If they can't secure a game, how can they secure a country?"
(With Inputs from Reuters)