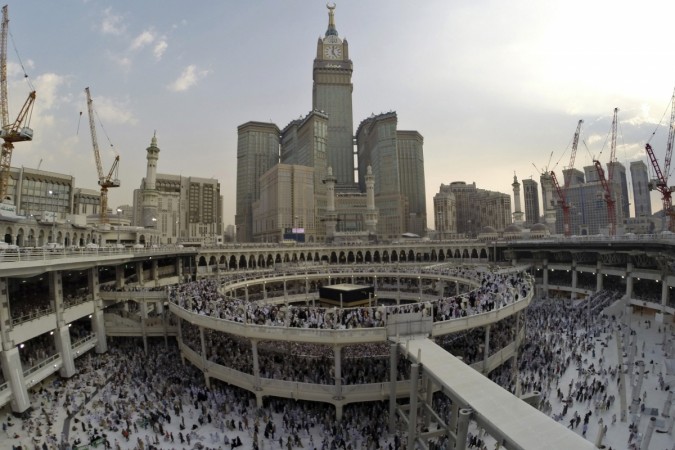 The birthplace of Prophet Muhammed in Mecca will soon be replaced by a grand royal palace, as part of a multi-billion-dollar construction project that has already destroyed several historic monuments.
According to reports, the palace will be built for King Abdullah and he will stay there during his visits to Mecca, which is considered the holiest city in Islam.
In a few years' time, Mecca will not be the same as now, as construction work is on full swing to expand al-Masjid al-Haram -- also known as the Grand Mosque in the West -- to welcome the pilgrims who make their way to the holy city each year.
Interestingly, the new Mecca will resemble Houston to a very large extent, as many members of the royal family involved in the development have been to the US, an ABC article of 6 November noted.
"Many members of the royal family, who have been involved in the development of Mecca, actually studied in America. They really liked Houston as an ultramodern oil city with a similar climate to Saudi Arabia. They've modelled Mecca on Houston to a very large extent," Ziauddin Sardar, chair of the Muslim Institute in London and author of "Mecca: The Sacred City," told the outlet.
Construction started several years ago, and since then up to 95 % of Mecca's historic structures have been replaced with luxury hotels, apartments and shopping malls, the Gulf Institute based in Washington noted, reported The Independent.
Last week, several 500-year-old Ottoman columns that commemorated the Prophet's ascent to heaven, were destroyed, and next on the list is the House of Mawlid, thought to be where Prophet was born, Dr Irfan Alawi of the Islamic Heritage Research Foundation told The Independent.
"The site of the Prophet's birthplace has again come under imminent threat of being permanently forgotten under concrete and marble," Alawi added.
"Now that Hajj is finished, the 24-hour construction work has started again. They have finished the expansion on one side of the mosque. The royal palace, which will be five times bigger than the current royal palace, is to be built into the side of a mountain and will overlook the mosque.
"Between now and December the library and the rooms of the House of Mawlid are likely be built over. It's inevitable that it will happen. It will be history. It will be gone. We are saying, 'Let us excavate that house and preserve these rooms that are still there'."
Although there are many critics who are unhappy with the construction, many are reluctant to speak publicly for fear of being punished by the regime that follows Islam's Wahhabi version, which is considered ultraconservative.