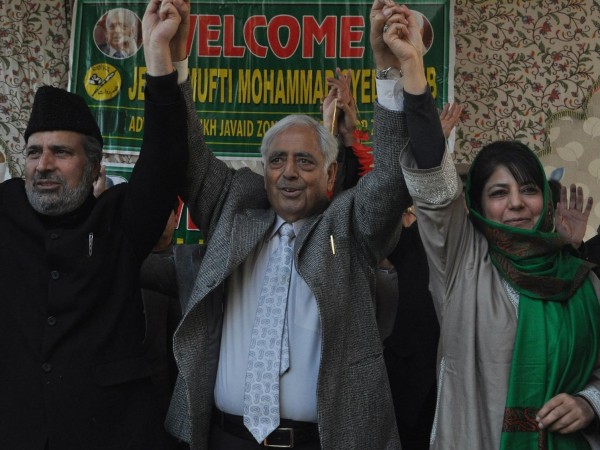 The release of Hurriyat leader Masrat Alam on Saturday not only sparked a massive debate in Parliament, it has also evoked anger among ordinary people, with Twitterati even calling the Jammu and Kashmir Chief Minister Mufti Mohammad Sayeed "ProPakCM".
The Sayeed-led PDP-BJP government ordered Alam's release in the absence of evidence in the cases against him. The PDP's ally in Jammu and Kashmir, the BJP, too expressed its disappointment at the decision taken by the Mufti government; the BJP's youth wing in the state called a protest on Sunday.
However, recent revelations in connection with the release of the Hurriyat leader suggest that the process to release Alam was set in motion on 4 February, when the state was still under governor's rule, NDTV had said, citing official correspondence.
The 4 February letter by the state's home secretary Suresh Kumar to Jammu district magistrate said the government order to detain Alam became void after the state home department failed to confirm it within the stipulated time of 12 days.
The authorities did not make a new case for Alam's detention subsequently. This led the magistrate to conclude on 4 March that Alam's preventive detention has "not been approved by the government", paving the way for Alam's release.
The reason his release has resulted in an uproar across India is because Alam has been waging war against India and demanding independence for Jammu & Kashmir. He has also been accused of young Kashmiris to join his fight against India.
Alam led the 2010 unrest in Kashmir in which about 110 people were killed and over 500 injured in a series of protests, stone-pelting and riots. He is also said to have coined several slogans such as "Go India, Go back".
Several people on Twitter vent their anger at Sayeed for his "anti-national" decision and even called him "terrorist" politician.
Its clear , the intentions of the J&K CM are not pro India. Hope he does not redraw international borders favouring Pak. #ProPakCM

— Blessan Philip (@blessanvp) March 10, 2015
Nonsense, Anti national n traitor #ProPakCM of #J&K . Must be sent them pakistan, they are not indians they are terrorist politicians. — Kritesh Kumar (@KriteshK) March 10, 2015
Dear @narendramodi ji, Please take back support from PDP or force them to take back their anti-national decisions.. #ProPakCM

— Rishi Bagree (@rishibagree) March 10, 2015
If mufti is #ProPakCM his party is #ProPak, means that 70 percent of kashmiris who voted for him are also #propak. There is your referendum. — 《Comandante》 (@Jibran_B) March 10, 2015
@PMOIndia Its an insult fr armymen wo sacrificed their life in capturing Separatists&Terrorists, be4 anything worst break alliance #ProPakCM

— Deepak Aum (@Deepak_oom) March 10, 2015
#ProPakCM should be BEHIND THE BARS for conspiring against our country , y is he still der as a #CM? — DIPTY (@deewrite) March 10, 2015