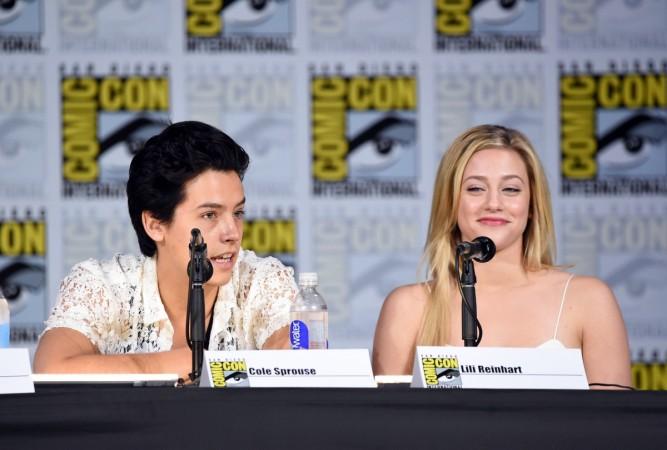 Riverdale stars Lili Reinhart and Cole Sprouse have kept details of their love life on lockdown for the longest time and they intend to keep it that way. Sure, they openly appreciate one another on social media, but have never gone on to confess their love for each other.
Body language expert Blanca Cobb thinks there's more to the mystery. Dissecting photos of public appearances the actors have made, Cob told Cosmopolitan they have had a thing for each other since 2016.
In one of the photos, Sprouse is seen with his arms around Reinhart's waist, with his fingers spread far apart. "You want to touch more of the person you like," Cobb told Cosmopolitan. She added that also their head tilts (in the picture) are in the same direction, which means they like each other and hence end up mimicking.
Cobb further evaluated one of the Riverdale cast appearances only to find that they are attracted to one another, but aren't sure of what awaits in the future. While Reinhart is seen pointing his heels in Sprouse's direction, the latter has his feet placed inwards awkwardly.
"When you're attracted to someone and don't want anyone to know, your body can look a little off, a little awkward." In another GIF, the actors are seen getting a little handsy. While the cast casually talks about their show, the two exchange grins and slyly brush their hands against one another briefly.
"It's playful, like arm wrestling, and it's not an accident. It's a deliberate connection that says, 'I'm thinking about you,' without saying a word," Cobb explained.
While all evidence points towards Reinhart and Sprouse's fresh, young love, there's no way to confirm it unless the two come forward. And given how strongly Reinhart feels about people talking about her personal life, it's going to be a long time before anyone can know anything.
A little about what one can expect from the show's third season:
Veronica Lodge and Archie Andrews' relationship will hit a rough patch following his arrest. Meanwhile, Jughead is set to go missing, causing him and Betty Cooper to drift apart.
Riverdale Season 3 is scheduled to premiere on October 10.