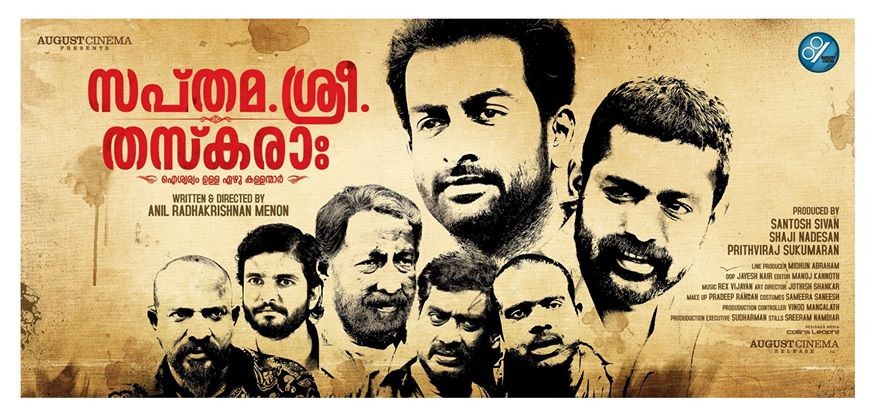 The promo song of the upcoming Malayalam film "Sapthamashree Thaskaraha" is released. The promo is set in a festive mood and has increased the curiosity of the entertainment world on the visual treatment of the movie.
The promo song, which begins with the lines "Naam Onnayi", is composed by Rex Vijayan and is sung by Saju Sreenivas. The lyrics of the song is written by Engandiyoor Chandrasekharan.
The promo song "Naam Onnayi" has the signature style of Rex Vijayan in to it with a combination of traditional beats and western music. The song has sounds of chenda in a dubstep version which is mixed with lots of synth and electronic sounds.
The promo song takes you through the making of "Sapthamashree Thaskaraha". The visuals portray the flavour of the festivals in Thrissur. The song begins with the scenes of "Pulikali" preparation and gradually takes the viewers to behind the scenes of the movie. The promo also introduces the cast and crew of the film.
"Sapthamashree Thaskaraha" directed by Anil Radhakrishnan Menon is touted as a light hearted thriller. The film is about seven strangers who meet at a prison and become trusted friends.
"It's a film about seven strangers who meet at a prison and formulate a plan. After completing their term they set off on a heist mission. They are not seasoned robbers, but ordinary men on an extraordinary mission, All the seven characters are equally important. It's not a film woven around the lead actors alone", Anil Radhakrishnan told The new Indian Express.
The trailer and the teasers of the film have shown the characters delivering dialogues in Thrissur accent, which has been a popular one in Malayalam films.
"We have tried to bring in the accent, but it may not be hundred per cent accurate. I wouldn't call it a comedy, but the mood is light and funny throughout," added the director.
The film has Prithviraj playing the character of Krishnanunni, a bank employee who ends up in jail because of some unexpected circumstances in his life. Asif Ali will play the role of Shahab, who is a gulf returnee, alongwith Nedumudi Venu as Noblettan, Neeraj Madhav as Narayanankutty, Salaam Bhukari as Salaam, Sudheer Karamana as Vasu and Chemban Vinod as Marty.
The leading ladies of the film are Reenu Mathews and Sanusha. Reenu Mathews will portray Sarah, wife of Prithviraj, and Sanusha will play the role of Annama, a nurse.
"Sapthamashree Thaskaraha" will hit theatres on 6 September and is produced by Santhosh Sivan, Shaji Nadesan and Prithviraj under the banner of August Cinemas.