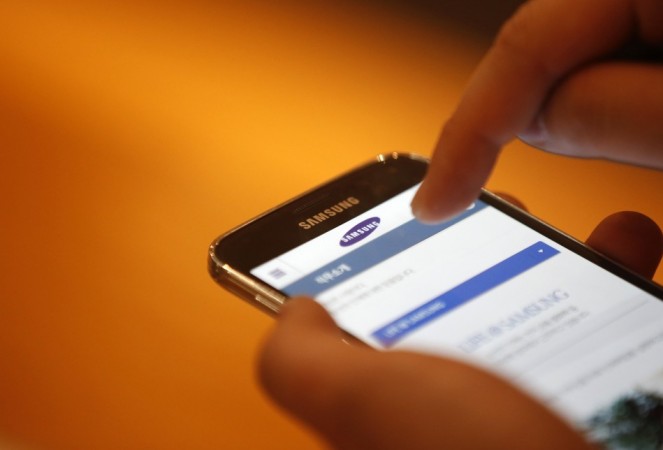 Samsung's new generation flagship smartphone Galaxy S6 is already under works. As we get closer to the rumoured late February launch, more secrets are tumbling out of the not-so-secured R&D vaults of the South Korean company.
We have sifted through multiple reports and have pieced together a list of probable specifications, which are likely to make the cut in the upcoming Samsung Galaxy S6.
Galaxy S5 failed to attract enough of consumers' attention than what the company anticipated. Many tech pundits believed that the 2014 flagship was just an incremental update over its predecessor, Galaxy S4 with no out-of-the-box innovative features.
Even Samsung's head (the UK and Ireland regions), Andy Griffiths in an interview with Forbes acknowledged the failure of Galaxy S5 to sway consumers.
"The S5 slowdown was inevitable to some extent, and the future for Samsung will lie in its new ideas, and R&D," he said.
The company is leaving no stone unturned to make the new Galaxy S6, the best smartphone yet in the industry. It has tentatively named its work on the new phone as "Project Zero".
Samsung is reportedly burning through its cash reserves on R&D team to come with new device to compete with rivals Apple, LG, Lenovo (also owns Motorola Mobility) and ever growing Xiaomi.
According to the Strategy& (formerly known as Booz & Company) statistics available with SamMobile, The South Korean has been ranked as the No 1 spender in research and development among all the IT companies worldwide and ranked No 2 among all the industries worldwide.
Samsung Galaxy S6-Display and Design:
Early this week, a Samsung device codenamed SM-G925F, understood to be the Galaxy S6 model was spotted on the popular AnTuTu benchmarking site, revealing key specifications.
According to technology website Cnmo, Galaxy S6 is said to boast 5.5-inch QHD (aka 2K: 2,560x1,440p) display, contradicting previous reports, which pointed that the Samsung's new would come with 5.3-inch super AMOLED based 4K ultra HD display with 4,096x2,160p resolution.
Among the two reports, many tech blogs incline towards the recent one to turn true, cause QHD screen is more plausible than the 4K Ultra HD.
Current crop of flagship devices like LG G3, Oppo Find 7 and Google Nexus 6 boast 2,560x1,440p, while 4K display panels have just begun to enter market in Television sets. So possibly it will take another year or two make its way to smartphones.
Besides the normal model, Samsung is also working on limited edition Edge model with curved display, similar to Galaxy Note Edge.
[Read More: Samsung Galaxy S5 Sequel to Debut with Limited Edition Galaxy S6 Edge ]
It is said the Galaxy S6 Edge will have dual-edge display; where-in phone's screen will be curved on both right and left side.
[Note: Galaxy Note Edge has curved screen only on one side]
Samsung Galaxy S6-Processor, RAM and storage:
Like previous years, Samsung is reported to introduce two flagship variants based on network availability in select regions.
It is learnt that one model would house the company's in-house built Exynos Octa-core processor and another will come packed with Snapdragon 810 series chipset.
Even the leaked internal document available with SamMobile, the upcoming Galaxy S6 is said to come in two chipset variants.
In terms of storage, one can expect the new Samsung smartphone to come with 3GB or 4GB RAM and 32GB inbuilt memory having expandable options via microSD card.
Samsung Galaxy S6-Special Features:
Fingerprint Sensor or Iris Scanner?
Samsung has already introduced the finger-print sensor in its current flagship phone Galaxy S5, so fans and tech critics were expecting Galaxy Note 4 go to next level by incorporating much advanced biometric technology Retina scanner.
A cryptic tweet from the company's chipset arm – Samsung Exynos in July had hinted that the future smartphones may feature Retina scanner, inciting speculations of the possibility of incorporation of the biometric technology in the upcoming Galaxy Note 4, but soon after the official announcement of the flagship phablet, this rumour met a quick death.
However, the rumour has once again risen from ashes. Samsung's Project Zero, an initiation for re-invigorating Galaxy S series in the industry has led to believe that Iris Scanner might make its way to Galaxy S6.
The Iris scanner would have actually debuted with Galaxy S5, but it was later learnt that Samsung engineers were required to incorporate a second dedicated camera on the front, leading to changes in the Galaxy S5's structural design. This shortcoming reportedly forced the company to adopt the finger print scanner.
Since then, enough time has passed by for the company to experiment with the new phone, which is said to have major design over-haul.
If Samsung does become successful in incorporating this advanced bio-metric technology, the company will certainly raise the benchmark for rivals.
For the uninitiated, 'Iris Recognition' is said to be more advanced and near fool-proof system as it involves camera technology with subtle infrared illuminations to capture the detailed nerve pattern on the iris (eye). Using this information, digital impressions are created by mathematical and statistical algorithm so that accurate profile is created. This biometric technology is nearly impossible to crack by an imposter, unlike finger print scanner which can be forged with a fake thumb print.
[Also read: "Apple iPhone 5S Fingerprint 'Touch ID' Security Feature Breached, Says German Hackers"]
Samsung Galaxy S6-Water-proof certifications:
2014 flagship model Galaxy S5 boasted IP67 water-and-dust repellent certifications, so one could also expect the S6 to have either same or higher certifications.
As of now, Sony Xperia Z3 has highest IP (Ingress Progress) 65/68 rating. This new Sony phone can survive a dip in the swimming pool (or any other water-body), 1.5 meters (five feet) under water for close to 30 minutes, provided all the open ports are closed by the flaps provided in the package, where Galaxy S5 which as IP67 certification, enables users to operate the phone one meter (or three feet) under water for close to 30 minutes.
Heart-rate sensor and UV (Ultra-Violet) sensor:
Samsung has already incorporated heart-rate and UV sensors in the Galaxy Note 4 series, so one can also expect these value-added features in the upcoming Galaxy S6 as well.
Samsung Galaxy S6-Mobile Operating Systems:
Samsung has already begun rolling out Android 5.0 Lollipop update to the Galaxy S5, so one can expect Galaxy S6 to come packed with Google's latest mobile OS.
Samsung Galaxy S6-Camera details:
Samsung Galaxy S6 is expected to house with the 20mp camera on the rear-side and a 5mp snapper on the front.
Samsung Galaxy S6-Release details:
Galaxy S5 made its debut in February at the company's 'Unpacked 2014 Episode 1' event at Barcelona, just days ahead of the internationally acclaimed MWC (Mobile World Congress) electronics trade-fair.
Many technology market analysts expected Samsung to go with same game plane next year, but a recent report from South Korea has indicated the Galaxy S6 launch might get postponed.
Qualcomm's Snapdragon 810 chipset, which is expected to come in Galaxy S6, is having performance issues like over-heating and Adreno GPU driver errors, reported Business Korea citing industry sources.
This flaw is also reported to affect other major Tier-1 firms like LG, Sony and HTC, who are also slated to launch flagship devices as well.
As of now, there is no official word from the companies, so we advise our readers to take this report with a proverbial pinch of salt.
If all things fall in place, we might see Samsung Galaxy S6 launched along with limited edition Edge variant around late February or by March end.
Speculated Specifications of Samsung Galaxy S6:
| | |
| --- | --- |
| Model | Samsung Galaxy S6 |
| Display | 5.5-inch super AMOLED QHD (aka 2K: 2560x1440p) screenPixel density: more than 540 ppi (pixels per inch) |
| OS | Most likely to come with Android 5.0 Lollipop OS |
| Processor | Model 1: Exynos 7420 Octa-core (four Cortex-A53 + four Cortex-A57 cores)Model 2: Qualcomm Snapdragon 810 series Octa-core CPU (Quad-core ARM® Cortex™ A57 and quad-core A53 with 64-bit support) |
| GPU | Mali T-760/Adreno 430 |
| RAM | 3GB/4GB |
| Storage capacity | 32GB, 64GB and128GB |
| Camera | Main: 20.0-megapixel with 4K video recording option, OIS (Optimal Image Stabilization)Front: 5.0-megapixel camera |
| Network | 4G-LTE (CAT6 speeds of up to 300 Mbps with support for up to 3x20 MHz carrier aggregation on LTE FDD and LTE TDD) |
| Add-ons | Supports Bluetooth 4.1, VIVE™ 2-stream 802.11n/ac with MU-MIMO, USB 3.0/2.0 port, Snapdragon 810 CPU comes with Integrated 4G LTE Advanced CAT6 World Mode modem, supporting LTE FDD, LTE TDD, WCDMA (DC-HSPA+, DC-HSUPA), CDMA1x, EV-DO Rev. B, TD-SCDMA and GSM/EDGE |
| Other mentionable features | Broadcom's new BCM4773 chip with navigation (GPS) and other sensors put together on a single chip, an industry first. |