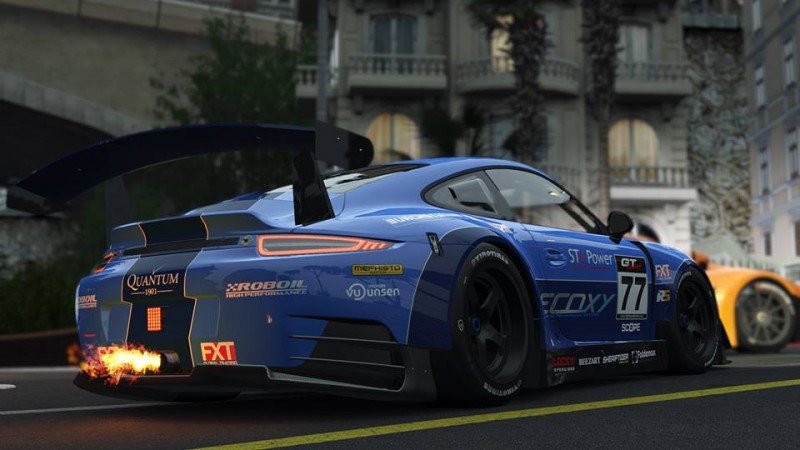 Project CARS, the simulation motorsport racing video game, from developers Slightly Mad Studios and publishers Bandai Namco received a new patch 9.0. This new patch adds numerous fixes to the game's vehicles, tracks, tires, audios and so on.
On the vehicular front, Patch 9.0 has made several tweaks that included tweaking of the AI suspension damper rates to tackle curbs in Aston Martin GTE. It has tweaked the default setup, optimum temperatures and cockpit camera in BMW 2002 SW.
It has also brought changes in transmission and paddle shift to align it with the 3D model in BMW 1M SW. It adjusted the speed and AI in BMW 2002 Turbo. In Formula Renualt 3.5, the patch raised collision mesh, tweaked default setup, increased tire temperature build-up.
It balanced the speeds, made improvements to grip and AI speeds for Ford Escort, Mercedes 300SEL. It also fixed an issue with the car parts being clipped in McLaren F1 GTR.
The patch tweaked race line and corridor in the Road America track. An issue has been fixed regarding the slowdown of the game in multiplayer mode in Silvertone Classic has also been fixed.
The company has revealed that PS4 and Xbox One version patch will arrive next week.
Below are the patch notes for Project CARS' new update (Project CARS forum):
Vehicles
Aston Martin GTE - adjusted the AI suspension damper rates down to better handle curbs
BMW 2002 SW - Adjusted default setup for better drivability. Adjusted optimum temperatures and heating to move the optimum running temp closer to 180F. Adjusted cockpit camera position.
BMW 1M SW - Changed transmission to sequential, paddle shift to match the 3D model
BMW 2002 Turbo - Speed adjustments for player and AI for better match in the Vintage racing class.
Formula Renault 3.5 - Raised collision mesh and adjusted default setup for better curb behaviour. Adjusted various other setup items to make player drivability better. Upped tire temperature build-up to get the tires more in the optimum range to use more of the intended grip with the default tire pressures and setup.
Ford Escort, Mercedes 300SEL - Balanced the speeds better against the new BMW Stance Works car for the same class. Slight improvements in available grip through moving them into better optimum heat/grip range. AI speeds changed to match.
McLaren F1 GTR - Fixed an issue where parts of the car would clip through other parts when damaged.
Tracks
Road America - New race line and corridor tweaking. The main goal was to keep the AI off the curbs so heavily, as with the massive alligator teeth here cause the stiffer car fits and lifting off the throttle.
Silverstone Classic – Fixed an issue that caused the game to dramatically slow down and at times crash during pitting in a multiplayer race.
Tires
Reworked some vintage tires to get a better average temperatures increase, resolve severe flat spotting, localized overheating and too-easy punctures which were being reported.
Audio
Ford Falcon – Reworked the vehicle sounds to a closer match of the real car.
UDP
UDP - fix for PC joypad and steering wheel buttons not registering.