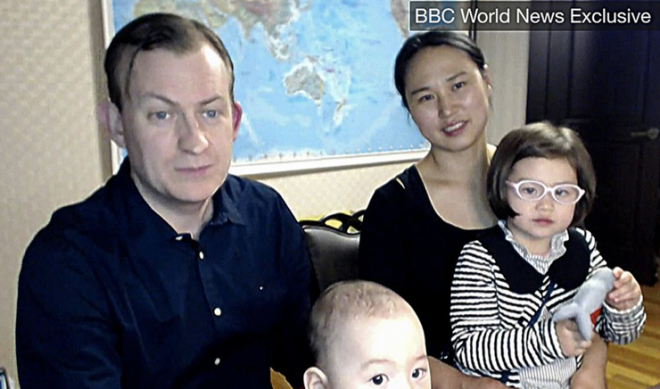 Robert Kelly, an associate professor of Political Science at Pusan National University in Busan, South Korea, did not have the slightest notion that his life was going to change, when he sat smartly dressed for a BBC interview in his home.
Kelly, last week, was answering serious questions about South Korea's ousted President Park Geun-hye and the corruption scandal she was embroiled in, in a BBC interview, when his two children Marion, 4, and nine-month-old James came bursting into his home office to meet their father. Their mother came in shortly after and took the children away in a comical, tornadoesque fashion.
It was a few hours later, after he frantically wrote to the BBC and apologised for the disturbances caused, that Kelly realised his family had become an internet sensation. The BBC video went viral in minutes, one version of the video on a BBC Facebook page had over 86 million views as of Wednesday.
Days after the release of the video, Kelly and his family have become internet celebrities with interview requests from big media houses.
The family's follow-up video with the BBC has begun doing the rounds again, as Kelly explains how frantic he was after the video 'disturbance' and how he thought the BBC or any other media house would never invite him again for interviews, considering the "unprofessional" behaviour.
Little did he know, that it was the same video which made them the most popular family in the world for at least 48 hours.
The kids are at it again in the latest video, interfering him, while he explains how "unreal" the whole thing has been to them and how they had to switch off their phones and stay off Twitter for a while. The family has made various television appearances since then.
Apart from the comic timings of the children, Kelly's wife Jung-a Kim also sparked debate
As the BBC video started gaining momentum and the number of shares hiked, there were increasing number of suggestions that the woman in the video was a nanny and not the children's mother, with many commenting "hoped she kept her job".
Various media outlets also reported the woman as the children's nanny, when in fact she was Kelly's wife.
This raised a social media debate on how deeply racial stereotypes are embedded in people's minds that the first thing they infer after seeing a white man, children, and an Asian woman in a video is that the latter is a nanny or a maid.
Critics and experts have said that the assumptions by many viewers and media outlets was made based on biases and racial stereotypes about roles Asian women play in a white setting, where many see them as servient.