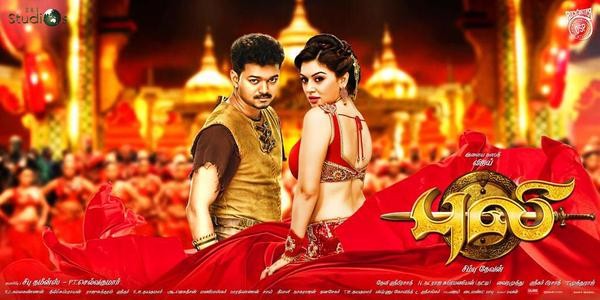 The stand-off between the makers of "Puli" and its distributors has been reportedly resolved, with the producers agreeing to pay a compensation of Rs 1.5 crore for the losses incurred by the distributors due to the poor performance of the Vijay-starrer at the box office.
A report on Indiaglitz said that PT Selvakumar and Shibu Thameens, the joint producers of the film, will be paying Rs 1.5 crore in total as a compensation to the distributors and it will be cleared in three instalments.
The makers will be settling the first instalment now and the second one soon after PT Selvakumar's next movie "Pokkiri Raja" hits the screens. The final settlement will take place before the release of Shibu Thameens' next film "Iru Mugan," which will see the light of the day in July.
Both the parties had a meeting a few days ago. After several rounds of negotiations, the deal was finalised by both the producers and distributors of "Puli," say reports.
"Puli" was made with the budget of Rs 100+ crore. The movie features big names like Ilayathalapathy Vijay, Sudeep, Shruthi Haasan, Hansika Motwani and Sridevi Kapoor. The fantasy-adventure was written and directed by Chimbu Deven.
It was released amid huge expectations, however, "Puli" bombed at the box office, causing huge losses to its producers as well as distributors.
The failure of "Puli" made the distributors demand for a compensation from the producers, who were initially unwilling to pay. But they were forced to meet the demands of the distributors, who were planning to boycott producer Selvakumar's next film "Pokkiri Raja."
With this settlement, "Pokkiri Raja," which has been censored with a 'U' certificate, will now release without any hurdle on Mar.4. The film stars Jeeva, Sibiraj and Hansika Motwani in the lead roles. It's a comedy film, written and directed by Ramprakash Rayappa.
[1 lakh = 100,000 | 1 crore = 10 million | 100 crore = 1 billion]