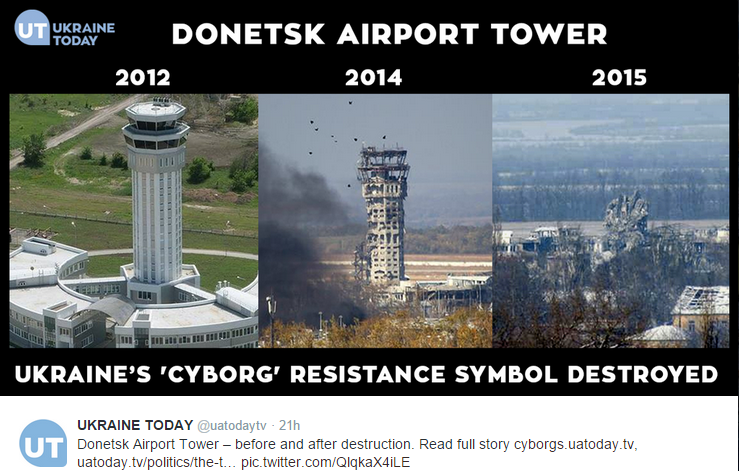 With the conflict intensifying around the Donetsk Airport, an air traffic control tower at Donetsk Airport has been destroyed in the heavy shelling by the pro-Russian forces on Tuesday.
The latest violence flared after Russia, Ukraine, France and Germany scrapped plans for a summit in Kazakhstan this week due to failure to implement a four-month-old ceasefire agreement.
The Russia-backed separatist forces had asked the Ukrainian soldiers to vacate the airport, but with the latter refusing to back out, the rebels have intensified the attack.
Since the start of the crisis, the Donetsk airport has remained the focal point of conflict in Ukraine. Reports claim that since 6pm local time on Tuesday, the rebel groups have continuously been firing and that for the first time, the rebels used 220mm multiple launch rocket system.
According to Liga, a Ukrainian news website, separatist forces were within 400m when the control tower fell. However, it is yet to be seen whether the additional artillery support will be enough to keep the airport from falling into pro-Russian hands - a development that would give an important tactical advantage to the separatists.
"Our position is simple, we are not going to leave. The terrorists [pro-Russian separatists] have intensified their attacks. The shelling is sweeping through the terminal. But this airport is now more than a mere strategic point. It's the symbol of our resistance," a Ukranian soldier told Liga.
In the latest casualty, a passenger bus came under heavy fire in eastern Ukraine, killing 12 people. Photographs showed the bus peppered by holes, as were the seats inside it. A long trail of blood marked the road beside it near the town of Volnovakha.
Ukraine has blamed the separatists for the attack, but the latter have denied any role.
Watch Live Feed on Latest Developement from Donetsk Airport