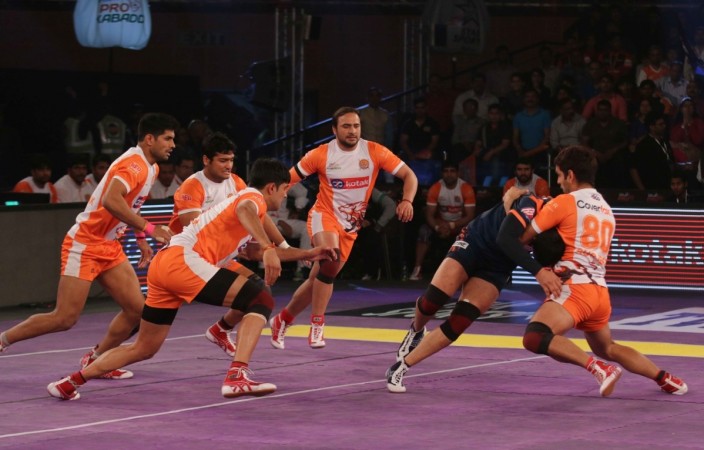 The promo for Pro Kabaddi season 4 is out and the message sent out in the 45-second long video is that no matter what the 'saas-bahu' serials portray action as on TV, nothing beats kabaddi. The catchline of the promo remains 'Don't Watch Fake, #AsliPanga Dekh'.
Pro Kabaddi League has become one of the most-watched sporting events in recent times on Indian television, reaching the heights of the Indian Premier League and the Indian Super League. Simultaneously, 'saas-bahu' serials too, over decades, have glued Indian audience to their TV sets. However, when it comes to watching real action on TV, everything fails in front of kabaddi -- that's the message going out.
"Le Panga" -- the catchline of Pro Kabaddi League since its inception -- has transformed to "Asli Panga" for the fourth season.
In the promo designed by the creative heads of Star India, the video showcases a newly-married Bengali bride being threatened by her mother-in-law, who has kept a snake on the bride's almirah that will bring her death on the first night itself. However, only later, the 'saas' discovers that her 'bahu' is actually a 'Naagin' (female snake) herself.
The promo soon cuts to the Pro Kabaddi mat and brings out the message, "Don't Watch Fake, #AsliPanga Dekh" (Watch the real action).
Prominent Indian TV face Mouni Roy plays the protagonist in one of the most renowned serials on Colors, 'Naagin', and the reference could not be ignored. However, is Colors TV really upset on Star India for taking a dig on their popular show? "I haven't seen the promo, but if the channel is using such a promo, we feel good. When competition reacts, that means our 'Naagin' matters," said Colors CEO Rajiv Nayak to LiveMint.
Star India argued that the promo was designed to show the relentless and the fiery real-life action that kabaddi has to offer against competition from various genres of fictional shows that Indian TV has to offer today.
"The campaign communication for Season 4 of Star Sports Pro-Kabaddi is focused on showcasing the intense and relentless action that the sport provides," said a Star India spokesperson on the Pro Kabaddi season 4 promo. "In a tongue-in-cheek manner, the attributes of kabaddi have been juxtaposed against narratives from other competitive viewing genres, culminating in a call to action for kabaddi—Don't watch fake, asli panga dekh."
The Pro Kabaddi season 4 is scheduled for a June 25 start and will feature all the existing eight teams.
Watch the promo here: