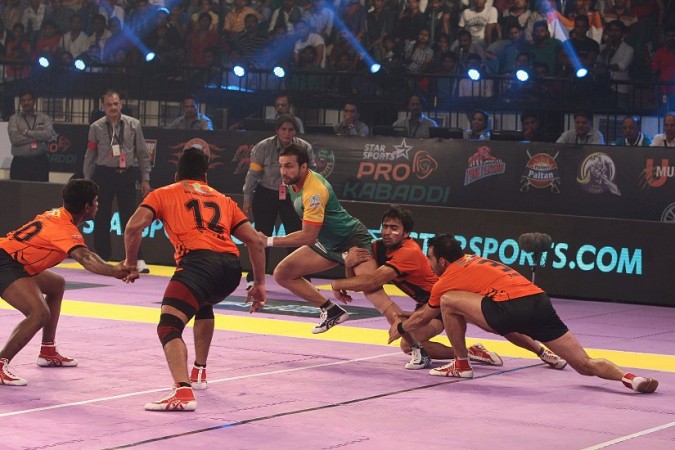 U Mumba take on the Bengaluru Bulls in the Pro Kabaddi League at the Sri Shiv Chhatrapati Sports Complex in Pune on Wednesday.
The two teams had met earlier in the season and on that occasion U Mumba had come out triumphant. On that occasion, U Mumba headed the table and the Bengaluru Bulls were in second place.
U Mumba are still the leaders and haven't lost even after playing eight matches. The Bulls, on the other hand, are in fourth place, but with a couple of games in hand. On the last occasion the clash between the boys from Mumbai and the Bulls was billed as the battle between the two heavyweights. This time around a keenly contested game is on the cards.
Both sides played their last match against the Patna Pirates. U Mumba had to be content with a tie while the Bulls arrested a losing run. The Pirates made it very hard for the Bulls, though. Patna, at one point, held the lead. The Bulls, however, not one to throw in the towel, fought back and took the lead. Towards the end of the game, the Bulls again faced quite a challenge from the Pirates. In the end they somehow held on.
The Bulls, however, have some defensive problems and a side like U Mumba can take full advantage. Furthermore, although they somehow managed to not fritter away their lead and win, the Bulls appeared somewhat frazzled in the end against the Patna Pirates. U Mumba's policy has always been to attack right from the outset. The Bulls can't afford to be frazzled when the boys from Mumbai have a go at them.
U Mumba are definitely the side to beat in this competition. They are the only side yet to not lose a game. In their last encounter against the Patna Pirates, however, they could not pull of a victory.
U Mumba were clearly the dominant team but had to settle for a tie. As usual they came out all guns blazing and seized the lead. At crucial points, however, the defence let them down. The boys from Mumbai looked as if they had the game in their pocket as they led with only a minute remaining but Patna fought back and ensured the game would end even. The defence will hope to do better against the dangerous Bulls, while attack remains U Mumba's strength.
This time the Bengaluru Bulls would be seeking revenge against U Mumba to move up the table. The boys from Mumbai on the other hand would want to dominate again.
Where to Watch Live:
U Mumba take on Bengaluru Bulls at 8-00 pm. Star Sports will air the match. Live coverage will comence on Star Sports HD 2 from 7.45 pm. This is the link for the live streaming option onstarsports.com.