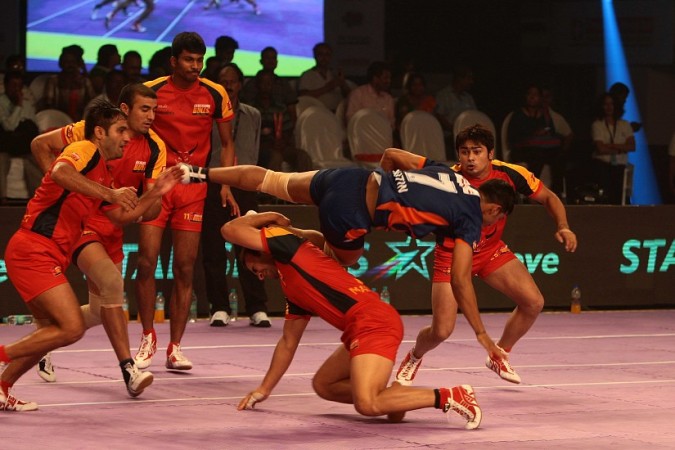 Jaipur Pink Panthers will battle it out with the Telugu Titans in the Star Sports Pro Kabaddi League on Thursday in Kolkata at the Netaji Subhas Chandra Bose Indoor stadium.
Both, the Pink Panthers and Telugu Titans haven't yet registered wins and have contested one match apiece against the top of the table U Mumba in the eight-league tournament.
The Jaipur Pink Panthers were beaten comprehensively by U Mumba while Telugu Titans held the side from Mumbai to a tie.
The Pink Panthers were slow to make the adjustments against U Mumba as the side from Mumbai were constantly on the offensive. It seemed as if the Pink Panthers had suffered an attack of nerves. The Pink Panthers began in a very aggressive manner but soon lost the momentum. Thereafter U Mumba, with one offensive move after another, raced away to a 25 to 12 lead in the first half.
To compound Jaipur's poor start, they also lost two players, one of them their skipper Navneet Gautam, and the other Rohit Rana. Navneet Gautam's men found opposition captain Anup Kumar and raider Shabeer Bapu Sharfudheen very hard to contain.
In the second half they put up a fight but they had too much ground to recover after their poor first-half show. Maninder Singh, who bagged 11 points, and Jasvir Singh, with 5 points, did well.
In the match against Telegu Titans a less frentic and better start is what the Pink Panthers would be hoping for. Maninder Singh and Jasvir Singh doing well in this game too would hold the Panthers in good stead.
Telugu Titans would be slightly more confident than the Panthers. Holding U Mumba to a tie was a good achievement. U Mumba would've been confident after their win over Jaipur whereas the Titans were playing their first game. Interestingly it wasn't just Telugu Titans who were nervous as the boys from Mumbai appeared somewhat on edge too. U Mumba, however regained their confidence as they took a lead.
In the second half the Titans fought back and bagged a quick 7 points. Rahul Choudari was instrumental in them procuring those points. From here, they went from strength to strength as they gained lona points, or two bonus points, also. The clock, however, was ticking. The Titans stuck to their guns as in the fag end of the match they came back and tied the game.
This Rajaguru Subramaniam-led side would be hoping for a win this time around. Rahul Choudari will play a crucial role again.
Where to Watch Live:
Jaipur Pink Panthers will play the Telugu Titans at 8-00 pm. Star Sports will air the match. Live coverage will comence on Star Sports HD 2 from 7-45 pm. This is the link for the Live Streaming option Star sports.com.