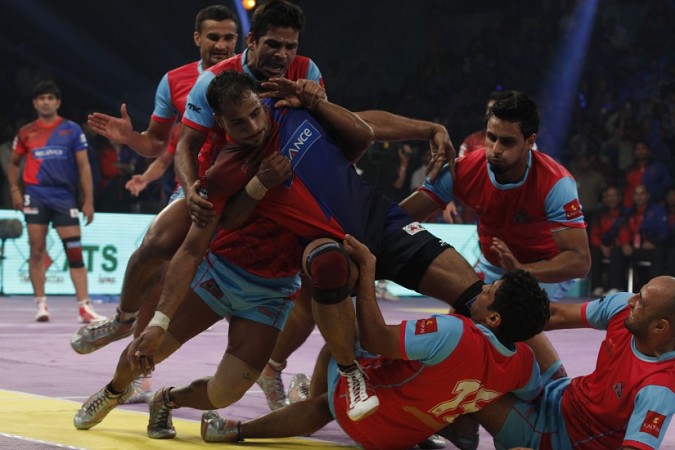 Puneri Paltan clash against Jaipur Pink Panthers at the Sri Shiv Chhatrapati Sports Complex in Pune on Wednesday.
The home-team Puneri Paltan, playing their third game in three days, have a very difficult match ahead of them. The Pink Panthers are, without a doubtm the favourites against them. The boys from Jaipur, after a defeat in their first game, have been nothing short of tremendous throughout the tournament.
Since then they have racked up no less than five wins in a row. In their last game against the Bengal Warriors, although they were not dominant, the Pink Panthers still managed to win by a convincing margin of 16 points. At present they are third in the league behind Bengaluru Bulls but with two games in hand.
Puneri Paltan on the other hand are languishing at the bottom of the points table. They, however, would take heart from a victory in their previous encounter against the Bengal Warriors on Wednesday.
The side from Pune would hope home support inspires them as it did against the Bengal Warriors. More often than not the boys from Pune have been up against it as they have conceded early leads. This has greatly reduced their chances of victory.
In the game against the boys from Bengal they made a terrific start and this gave them the momentum to press on. For once they took the lead as the score was the 14-5 early on. Such a good beginning meant that this was one of the few times they could dominate, which they duly did.
Led by Wazir Singh in attack, they have been good. They led by no less than 15 points with only ten minutes to go against Bengal. In defence, however, the Pune lineup has been suspect and this was on view in the match against the Warriors. They gave away 15 points in ten minutes. If this continues against the powerful Pink Panthers attack, which has the fantastic Jasvir Singh, then they are in for a lot of trouble.
The Pink Panthers are on a roll and they will seek to continue in this vein. In attack, with Jasvir, they have been hard to stop. The defence, with skipper Navneet Gautam leading the way, has held firm as well. The fact that both the defence and the attack have been performing well makes them doubly dangerous. It'll be interesting to see how Wazir Singh of Puneri Paltan performs against the Pink Panthers defence.
Where to Watch Live:
Puneri Paltan will play the Jaipur Pink Panthers at 9-00pm.Star Sports will air the match. Live coverage will comence on Star Sports HD 2 after the first match of the day. This is the link for the live streaming option onstarsports.com.