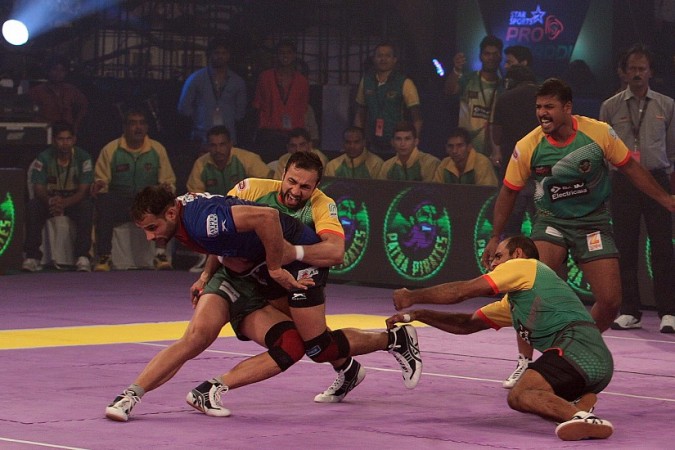 Patna Pirates go up against Bengal Warriors in the Pro Kabaddi League at the Sawai Mansingh Stadium in Jaipur on Thursday.
The Warriors, who have had a rough time so far, unexpectedly came up trumps against the Pirates in the reverse fixture. Revenge is what Patna will be thinking of now. They will undoubtedly come out very aggressive as they hope to put that defeat behind them.
The Pirates, in third place, had the golden opportunity to move further up the table, when they took on the Warriors but they failed to grab it. But despite the victory in the last game, the Warriors are still seventh, which means a play-off berth looks distant. It is imperative that they win this game as well.
In the last encounter between these two sides, the Pirates had started the game against the Warriors very well but fell away after an injury to their skipper Rakesh Kumar. From here on, it was the Warriors who seized the lead and ensured they held on to it.
Kumar did play on despite the injury but it was clear that it restricted his movements and he could do very little as his team fell apart. The Pirates will be hoping for a fully fit Kumar when they take on the Warriors.
Prior to the loss to Bengal, Patna had been doing well as they had gone undefeated in five games in a row. They had won three of these games and had beaten Jaipur Pink Panthers 52-30. The Pirates, who had a nervy beginning to the tournament, will be looking to be amongst the winners again. Moreover, if they win here they can climb to second place. Kumar as always will be key for them.
Bengal have quite a challenge in front of them. They have to continue winning, if they are to make it to the play-offs. The surprise win against the Pirates would have buoyed them. The fact that they did not throw in the towel, despite the Pirates starting well, would be a source of inspiration too for the Warriors.
The defence has shown signs of improvement but needs to be more consistent. Skipper Nilesh Shinde, who did well against the Pirates, will be looking to come good again. The Warriors will look to star raider Jang Kun Lee to make an impact in this game.
Patna, favourites, are intent on getting back to winning ways, while Bengal need to win to stay in the competition - an interesting game is in the offing.
Where to Watch Live
Patna Pirates will play Bengal Warriors at 8:00pm. Star Sports will air the match, with live coverage on Star Sports HD2. This is the link for the live streaming option on starsports.com.