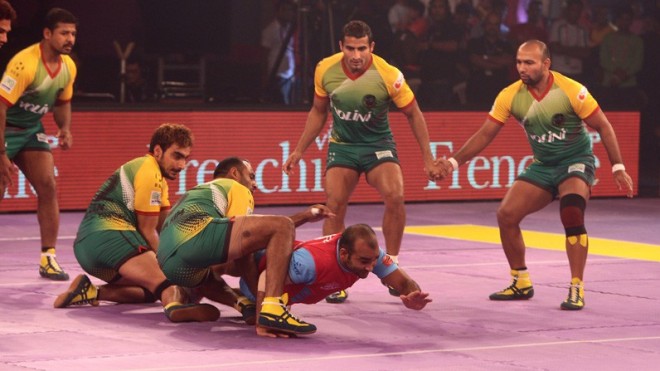 After two blockbuster seasons of the Pro Kabaddi League, season 3 is almost upon us in a brand new format. The lucrative one-of-a-kind kabaddi franchisee league gets featured two times in a year from now on.
And the excitement as well as the edge-of-the-seat affairs and the spectacle of the physical game rises a level higher.
Eight teams will be taking part this time as well and the league matches will take place across eight venues in India. The playoffs will take place at the Indira Gandhi Indoor Stadium in New Delhi.
Defending champions U Mumba start their campaign on the inaugural day of the Pro Kabaddi League 2016 on 30 January as they take on home team Telugu Titans at the Rajiv Gandhi Indoor Stadium in Visakhapatnam.
The Star Sports Network will broadcast the league across several countries and will cater to the audience in as many as four Indian regional languages. Also, this year not only is the broadcast coverage getting a major improvement but the audio production system is also seeing a massive makeover.
"Our sustained efforts to take the sport to new vistas through high-end production, marketing, communication and grassroots programmes have led to a deeper engagement and reach across segments," the COO of Star India, Sanjay Gupta, said. "This success will help us in our goal of encouraging sporting talent and nurturing heroes."
Pro Kabaddi League 2016 Full Schedule of Matches:
Venue: Rajiv Gandhi Indoor Stadium, Visakhapatnam
30 Jan: Match 1: Telugu Titans vs U Mumba (8 PM IST)
30 Jan: Match 2: Dabang Delhi vs Bengaluru Bulls (9 PM IST)
31 Jan: Match 3: Jaipur Pink Panthers vs U Mumba (8 PM IST)
31 Jan: Match 4: Telugu Titans vs Puneri Paltan (9 PM IST)
1 Feb: Match 5: Patna Pirates vs Jaipur Pink Panthers (8 PM IST)
1 Feb: Match 6: Telugu Titans vs Dabang Delhi (9 PM IST)
2 Feb: Match 7: Telugu Titans vs Bengal Warriors (8 PM IST)
Venue: Sree Kanteerava Stadium, Bengaluru
3 Feb: Match 8: Bengaluru Bulls vs Patna Pirates (8 PM IST)
3 Feb: Match 9: Dabang Delhi vs Puneri Paltan (9 PM IST)
4 Feb: Match 10: Bengaluru Bulls vs Bengal Warriors (8 PM IST)
5 Feb: Match 11: Dabang Delhi vs U Mumba (8 PM IST)
5 Feb: Match 12: Bengaluru Bulls vs Jaipur Pink Panthers (9 PM IST)
6 Feb: Match 13: U Mumba vs Patna Pirates (8 PM IST)
6 Feb: Match 14: Bengaluru Bulls vs Telugu Titans (9 PM IST)
Venue: Netaji Subhash Chandra Bose Indoor Stadium, Kolkata
7 Feb: Match 15: Bengal Warriors vs Puneri Paltan (8 PM IST)
7 Feb: Match 16: Jaipur Pink Panthers vs Dabang Delhi (9 PM IST)
8 Feb: Match 17: Patna Pirates vs Telugu Titans (8 PM IST)
8 Feb: Match 18: Bengal Warriors vs Dabang Delhi (9 PM IST)
9 Feb: Match 19: Bengal Warriors vs Patna Pirates (8 PM IST)
10 Feb: Match 20: U Mumba vs Bengaluru Bulls (8 PM IST)
10 Feb: Match 21: Bengal Warriors vs Kaipur Pink Panthers (9 PM IST)
Venue: Shree Shiv Chhatrapati Sports Complex, Pune
11 Feb: Match 22: Puneri Paltan vs Patna Pirates (8 PM IST)
12 Feb: Match 23: Patna Pirates vs Dabang Delhi (9 PM IST)
12 Feb: Match 24: Puneri Paltan vs Jaipur Pink Panthers (8 PM IST)
13 Feb: Match 25: Jaipur Pink Panthers vs Telugu Titans (8 PM IST)
13 Feb: Match 26: Puneri Paltan vs U Mumba (9 PM IST)
14 Feb: Match 27: U Mumba vs Bengal Warriors (8 PM IST)
14 Feb: Match 28: Puneri Paltan vs Bengaluru Bulls (9 PM IST)
Venue: Patliputra Sports Complex, Patna
16 Feb: Match 29: Patna Pirates vs Bengal Warriors (8 PM IST)
16 Feb: Match 30: Telugu Titans vs Jaipur Pink Panthers (9 PM IST)
17 Feb: Match 31: Patna Pirates vs Bengaluru Bulls (8 PM IST)
18 Feb: Match 32: Bengaluru Bulls vs Dabang Delhi (8 PM IST)
18 Feb: Match 33: Patna Pirates vs Puneri Paltan (9 PM IST)
19 Feb: Match 34: Bengal Warriors vs Telugu Titans (8 PM IST)
19 Feb: Match 35: Patna Pirates vs U Mumba (9 PM IST)
Venue: Sawai Mansingh Stadium, Jaipur
20 Feb: Match 36: Jaipur Pink Panthers vs Bengaluru Bulls (8 PM IST)
20 Feb: Match 37: Puneri Paltan vs Dabang Delhi (9 PM IST)
21 Feb: Match 38: Telugu Titans vs Bengaluru Bulls (8 PM IST)
21 Feb: Match 39: Jaipur Pink Panthers vs Puneri Paltan (9 PM IST)
22 Feb: Match 40: Jaipur Pink Panthers vs Bengal Warriors (8 PM IST)
23 Feb: Match 41: Bengal Warriors vs U Mumba (8 PM IST)
23 Feb: Match 42: Jaipur Pink Panthers vs Patna Pirates (9 PM IST)
Venue: Thyagaraj Sports Complex, Delhi
24 Feb: Match 43: Dabang Delhi vs Telugu Titans (8 PM IST)
25 Feb: Match 44: Bengaluru Bulls vs U Mumba (8 PM IST)
25 Feb: Match 45: Dabang Delhi vs Patna Pirates (9 PM IST)
26 Feb: Match 46: Puneri Paltan vs Telugu Titans (8 PM IST)
26 Feb: Match 47: Dabang Delhi vs Jaipur Pink Panthers (9 PM IST)
27 Feb: Match 48: Bengaluru Bulls vs Puneri Paltan (8 PM IST)
27 Feb: Match 49: Dabang Delhi vs Bengal Warriors (9 PM IST)
Venue: NSCI, Mumbai
28 Feb: Match 50: U Mumba vs Jaipur Pink Panthers (8 PM IST)
28 Feb: Match 51: Telugu Titans vs Patna Pirates (9 PM IST)
29 Feb: Match 52: U Mumba vs Puneri Paltan (8 PM IST)
1 Mar: Match 53: Bengal Warriors vs Bengaluru Bulls (8 PM IST)
1 Mar: Match 54: U Mumba vs Telugu Titans (9 PM IST)
2 Mar: Match 55: Puneri Paltan vs Bengal Warriors (8 PM IST)
2 Mar: Match 56: U Mumba vs Dabang Delhi (9 PM IST)
Venue: Indira Gandhi Indoor Stadium, New Delhi
4 Mar: Semi-Final 1: Rank 1 vs Rank 4 (8 PM IST)
4 Mar: Semi-Final 2: Rank 2 vs Rank 3 (9 PM IST)
5 Mar: ¾ Place: Runner Up SF 1 vs Runner Up SF 2 (8 PM IST)
5 Mar: FINAL: Winner SF 1 vs Winner SF 2 (9 PM IST)