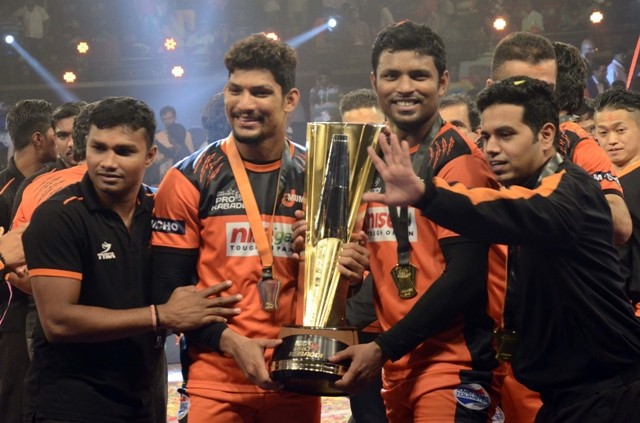 After taking the box office and movie audiences worldwide by storm following a breathtaking performance in the blockbuster "Baahubali: The Beginning", Telugu star Rana Daggubati is set to add massive firepower in the third season of Pro Kabaddi League.
The Chennai-born actor-cum-producer has been roped in as one of the brand ambassadors of Pro Kabaddi League 2016, beginning on 30 January.
Two edge-of-the-seat seasons went by and the traditional Indian sport is steadily receiving massive support from the younger generation; kabaddi is also regaining its status as one of the most cherished sports of the nation.
The third season can be no less of an exciting affair. If the tunes of "Le Panga" by Amitabh Bachchan was a crowd-puller, expect Rana, who shatters box office records easily, to put the icing on the cake for Pro Kabaddi League in the third season.
The well-built Southern superstar have been roped in to promote the league across Andhra Pradesh and Telegana as a whole. Telugu Titans is one of the teams from the Southern part of the country, and its fanbase is huge. Retaining that fanbase and creating more fans is now the primary aim.
"I am extremely happy to be associated with Star Sports Pro Kabaddi," Rana told the official site of Pro Kabaddi League. "For me, kabaddi has always been a fun sport growing up, and I am excited that Star India has pushed the envelope in promoting the sport and making it even more popular in this new format.
"I'm particularly excited to meet the amazingly talented players as I am also their fan. This will be a great experience!"
The actor is also expected to render the national anthem in one of the opening-leg games of the league that will take place in Visakhapatnam. Over the seasons, a number of actors and musicians have come forward to sing the national anthem prior to the start of the regional legs of matches.
The Pro Kabaddi League 2016 will run until 5 March. A total of 60 games will be played this time on specially-developed mats, and also in well-equipped indoor stadiums.