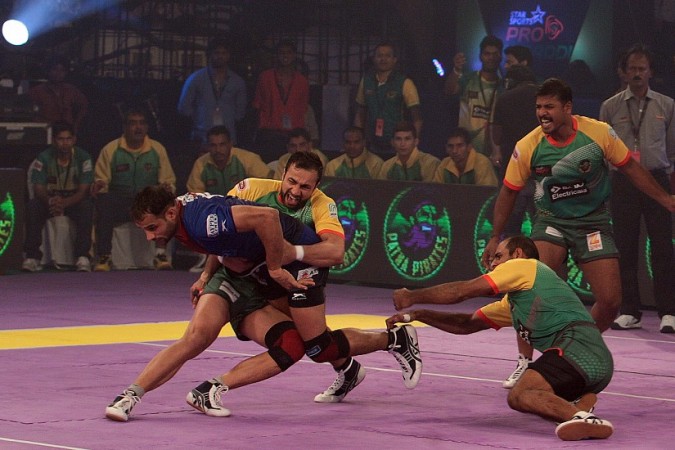 As many as 25 players can feature in the squad for each of the eight franchisee teams for the Pro Kabaddi League 2015, as the decorated kabaddi league gets under way on 18 July.
The tunes of 'Le Panga' – rendered by Indian superstar Amitabh Bachchan – is set to take the Indian households by storm as the high-adrenaline, edge-of-the seat, and action-packed kabaddi matches get under way tomorrow. The inaugural match is set to feature last year's finalists U Mumba taking on defending champions Jaipur Pink Panthers, at the National Sports Club of India (NSCI) in Mumbai.
"The squad strength of the teams has been bolstered from 14 during the inaugural edition last year to 25 for the second season. More players from Iran – the closest competitor for India internationally – will be seen in action," Nitin Kukreja, Head of Star Sports told Firstpost.
Watched by over 435 million viewers nationwide last year, the PKL became the second-most watched sport in the country, with the season-finale alone recording a viewship of 86.4 million.
This year, the PKL is set to feature 60 games to be played over 37 days in eight cities.
"Pro Kabaddi was all about bringing pride and respect back into kabaddi — a long forgotten ancient sport — and we matched our expectations and then 10 times more," Charu Sharma, Director of Pro Kabaddi League, said.
"We want to give the initial advantage to the current franchises as it was hard enough to bring the eight teams in. We want to give them a head start. We could go up to 16 teams in the future, but keeping the number of teams even, maybe add two at a time.
"In terms of player representation we encourage teams to start their local programs so that local people fit into their teams. They may not be big stars, but they are the biggest aspiration point for other kabaddi players in the city. We don't intend to have any more auctions," Sharma added.
The cash-rich IPL-style kabaddi tournament has undoubtedly given the much-needed exposure to the ancient Indian sport among the youngsters, and it is expected to grow manifold this year as well.
"Pro Kabaddi League has not only revitalised the sport but has also made kabaddi a viable career option for young talent across the country," said International Kabaddi Federation's president, Janardhan Singh Gehlot, who wants to see kabaddi become a Olympic event soon.
Full Squads:
Bengal Warriors – Dinesh Kumar (C), Nilesh Shinde, Akhil Ashokan, Jang Kun Lee, Kedar Lal, Mahendra Ganesh Rajput, Mahesh Goud, Manoj Kumar Gora, Nitin Madane, Sandeep Kumar, Sunil Jaipal, Surjeet Singh, Bajirao Hodage, Deepak Dhull, Deepak Kumar, Parveen Kumar, Parveen Madanlal, Sachin Kambe, Seong Ryeol Kim, Shyam Kumar Sah, Vijin Thangadurai, Vikas Kale, Hitesh Patel
Bengaluru Bulls – Manjeet Chhillar (C), Ajay Thakur, Ashish Chhokar, Deepak Kumar, Pardeep Narwal, Rajesh Mondal, Rakesh Narwal, Sinotharan K, Sunil H, Vaibhav Kale, Vinoth Kumar, Adinath Gavali, Ashish Kumar, Dharmaraj C, Gurpreet Singh, Ketut Ariana, Joginder Narwal, Michal Spiczko, Parmod Narwal, Parveen Malik, Sandeep Malik, Somvir Shekhar, Preetam Chhillar
Dabang Delhi – Takamitsu Kono, Dong Ju Hong, Amit Singh, Balaso Awad, Kashiling Adake, Shrikant Tewthia, Surjeet Narwal, Rakesh Kumar, Rohit Kumar, Sachin Kumar, Avnish Kumar, Manikantha, Rajeev Kumar, Inderpal, Sandeep Tomar
Jaipur Pink Panthers – Navneet Gautam (C), Sanjay Shrestha, Balbir Singh, G Mallesh, Jasvir Singh, Rajesh Narwal, Raju Lal Chowdhary, Rohit Rana, Gokul Shitole, Prashant Chavan, Samarjeet Singh, Ram Singh, Shrikant Jadhav, Sonu Narwal, Kuldeep Singh, C Arun, Dharmendra, Rohit Kumar, C Karnan, Suraj Gurjar
Patna Pirates – Rakesh Kumar (C), Abhinandan Kumar, Deepak Narwal, Dovlet Boshimov, Gurvinder Singh, Ravi Dalal, Santosh Kumar Singh, Amit Hooda, D Suresh Kumar, Girish Ernak, Sunny, Varinder Singh, Wasim Sajjad, Pradeep Kumar, Ram Kumar Sah, Sandeep Narwal, Eom Taedeok
Puneri Paltan – Wazir Singh (C), Amit Rathi, Mahipal Narwal, Pravin Niwale, Ravi V, Simon Kibura, Surendar Singh, Tushar Patil, Waleed Al Hasani, Yogesh Hudda, Anil S, Harvinder Singh, Jitesh Joshi, Kalimuthu B, Manoj Dhull, Manoj Kumar, Nitin More, Ravi Kumar, Sachin V, Sagar Katale, Vijender Singh, Vikas Tomar, Amit Kumar, Sanjay Kumar
Telugu Titans – Rajaguru Subramanian (C), Ranjit Chandran, Deepak Hudda, Isaac Anthony, Prashanth Kumar, Rahul Chaudhary, Sukesh Hegde, D Gopu, Jishnu, Sachin Singade, Sandeep, Ravit Kumar, Rupesh Tomar, T Prasad, Hadi Oshtorak*
U Mumba – Anup Kumar (C), Anoop EV, Gopalappa T, Prapanjan, Masayuki Shimokava, Onkar Jadhav, Pawan Kumar, Pradeep Kumar, Rishank Devadiga, Shabeer Bappu, Suresh Kumar, Vinod Atyalkar, Vinod Paulyas, Jeeva G, Jeeva Kumar, Mohit Chhillar, Surender Nada, Vishal Mane, Bhupendra Singh, Jawahar Vivek, Mohammed Abdul Saleh, Suresh P.
* bought for a whopping Rs 21.1 lakh -- record price in the international players' draft for PKL 2015