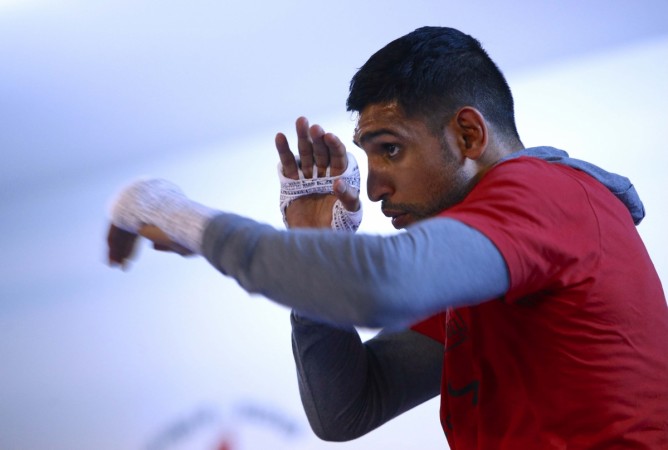 Pakistani-born British boxer Amir Khan had revealed just a week ago that he was keen to fight India's Vijender Singh in the pro-boxing ring. However, Khan first needs to focus on his current assignment — fighting Canelo Alvarez for the WBC middleweight title at the T-Mobile Arena in Las Vegas on Saturday.
It is, however, unsure what the 29-year-old boxer would do after his fight with Alvarez. Will Khan ask for a rematch with the Mexican pro-boxer or is he willing to wait until at least 2018 to take on Vijender? Or will he try his luck at some other combat sport like Mixed Martial Arts?
"Never say 'no'," said Khan when asked if he would ever become an MMA fighter and compete in major promotions like the UFC or the Bellator Fighting Championship.
Not many are aware that the decorated pro-boxer holds a stake in the MMA promotion Super Fight League (SFL), which started in India back in 2012, before heading out to the other parts of Asia, the Middle East and the United States.
"Can I kick hard? I'll try it out on you later and you can tell me," said Khan in an interview to the Guardian. "I have a stake in a company called Super Fight League, which is an MMA company in India, and we have a lot of shows in Dubai, too. We are now moving over into America and putting on shows there.
"Bellator and the UFC are the two main MMA companies; we're probably third after those two. I've always been a UFC fan and I like Conor McGregor and the way he promotes [MMA]," he added.
UFC Featherweight champion Conor McGregor rose to 170 lbs to take on Nate Diaz in the welterweight division in the main event of UFC 196. The featherweight division, however, has a weight limit of 145 lbs.
Khan, who fights normally in the 147-lb category, believes he would come out stronger against McGregor in a match in a similar weight category.
"If I was to fight the champion around 147lbs I would fancy my chances. You never know what will happen in the future; I would never say 'no' to getting into MMA," Khan said. "I could do it under my own banner and what a way to do it. My speed would be perfect, it's hit and move.
"Just look at when McGregor beat Jose Aldo. The guy leant forward, over extended and fell short, McGregor stepped back and threw the straight right. It was a proper boxing move. I would not let anyone get close to me, I would take a step back and keep it long. I also believe that us boxers punch harder than MMA fighters anyway."