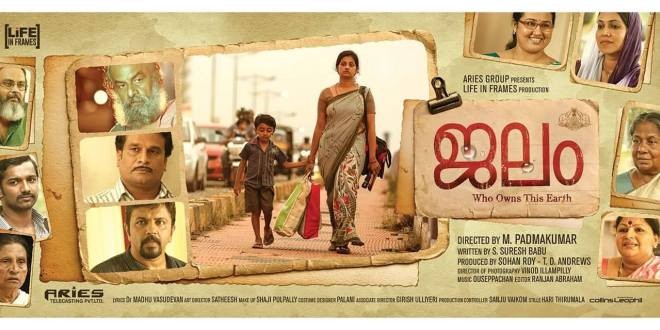 Director M Padmakumar's "Jalam", starring Priyanka Nair, got good reviews by critics following its release on 29 January.
Critics and audience have applauded Kerala State Film Award-winning actress Priyanka for her portrayal of Seetha in the movie, which deals with the subject of landless people in our society. While S Suresh Babu's screenplay is said to be convincing and touching, Vinod Illampally gets good appreciation for his neat cinematography, backed by Ranjan Abraham's sharp editing.
"Jalam" also has Jain Syriac, Sethulakshmi, Prakash Bare and P Balachandran in pivotal roles, and they have also been lauded for their performances.
Plot
The film narrates the story of a woman named Seetha, played by Priyanka. Only after she gets married to Dinakaran (Jian Cyriac) does she realise he doesn't own any land. The legal and the personal issues they face to get some land from the government form the crux of the two-hour-long movie.
Check out review roundup of "Jalam" below:
Jalam is not just a movie but an experience which will make you feel the pain, agony and helplessness of people living around us. Never miss this experience and watch it from theaters. Because the money you give to buy the ticket of this will be going to the ones who are helpless and homerless. We really love to appreciate the whole team for doing such a great thing and hope that the spectators will support this great cause as well. Jalam deserves it in all sense.
'Jalam' is easily Padmakumar's best film till date. Heavily laden with bitterness, it's a brutally honest slice straight from life that stringently relates homelessness to hope, human courage and most importantly a harrowing loss of identity. The melancholic background and musical scores by Ouseppachan lends a delicate charm to the narrative, while Vinod Illampilly's meticulous frames hover decisively over a troubled landscape that has set its erstwhile inhabitants into disarray.
'Jalam' is a poignant movie that leaves a lot of deep bruises on our mind and forces us to think on a number of germane societal issues. It is one of those rare movies which has the potency to haunt the viewers long after leaving the cinema and is a must watch for any ardent filmgoer.
Priyanka has delivered a good performance as Seetha. The pain and the transformation to a bold mindset were portrayed nicely by her. Actress Sethulakshmi was good in that character in her typical slang and style. The guy who acted as Seetha's husband was disappointing. The movie can give you certain facts about the situation of landless people in our state, but beyond that there isn't much to engage.