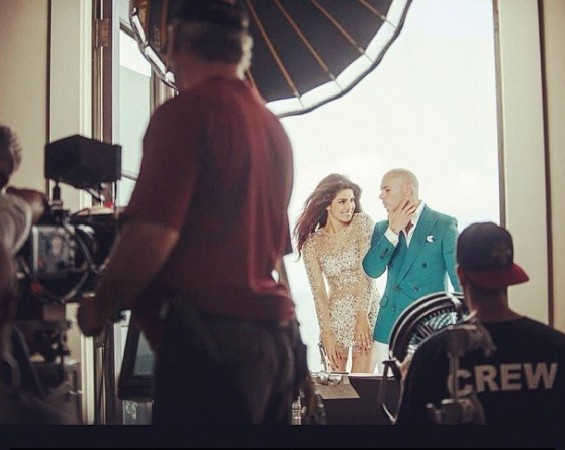 Bollywood actress Priyanka Chopra's second International single, "Exotic" where she has collaborated with famed American rapper Pitbull, has been leaked online.
However, the chirpy actress was rather ecstatic of the leak and tweeted, "Ok... so... my new single 'Exotic' has been leaked! I should be angry but I'm actually quite relieved & happy to share it with You all. The official version is out any minute now.... wait for it!! And as always, let me know what you guys think."
The catchy item has ample Hindi lyrics unlike her first international track, "In My City" which was collaboration with will.i.am.
The song's Hindi lyric goes, "Pardesi babu ne iss desi dil ko maan liya hai."
Rapper Pitbull also tweeted about the song saying, "Enjoy "Here it is... Exotic..Miss World & Mr. Worldwide..U already know this things on fire!!"
The video of the song, which was shot in South Beach, Florida with Pitbull, is set for release on 1 July.
Priyanka in an interview to the wall Street Journal revealed, "The song is called 'Exotic' so I wanted to keep it just that. It's very dance-heavy, and in India, that's what we do in all of our movies, so it definitely has an Indian flavor to it."
The actress's first single "In My City" received mixed reviews and was nominated for Best Female Artist, Best Song and Best Video for "In My City" at the World Music Awards (2012). The track was hugely successful in India and went on to be certified triple platinum.
The actress' musical album is produced by the mega RedOne which has handled many of Lady Gaga's famous tracks
Priyanka has also recorded for "Erase", an Electronic Dance Music (EDM) which was produced by The Chainsmokers.
Listen to Priyanaka Chopra and Pitbull's 'Exotic' audio: