Celebrity Jewelry designer Nirav Modi, who announced Priyanka Chopra as the ambassador for his self-named brand, is in trouble!
According to Mumbai Mirror, the CBI has booked Nirav Modi, his wife and brother for allegedly cheating Punjab National Bank (PNB), causing it a "wrongful loss" of Rs 280.70 crore in 2017.
Two officials of the bank, one of whom is retired, have been also named as co-accused in the FIR.
The report said that the complaint was filed with the CBI by Avneesh Nepalia, Deputy General Manager of PNB, Mumbai, against Modi, his brother Nishal, wife Ami and Mehul Chinubhai Choksi — all partners of Diamond R US, Solar Exports and Stellar Diamonds — and the two bank officials, Gokulnath Shetty (now retired) and Manoj Kharat.
The complaint says Diamond R US, Solar Exports, Stellar Diamonds needed buyers' credit in order to make payments to overseas suppliers. Such credit is given to companies that fulfil certain criteria, which these firms did not.
However, Modi and his associates managed to get buyers' credit for their firms thanks to fake Letters of Undertaking (LOUs) issued by Shetty and Kharat, who were part of the PNB's foreign exchange department.
"As there was no sanctioned limit in the name of the above firms, the branch officials asked the firms to furnish at least 100 percent cash margin for issuing LoUs for raising buyer's credit. Though the firms contested that they have been doing it since long, the records did not show anything. Shetty, who was the deputy manager at the foreign exchange department looking after the import section, and Kharat fraudulently issued the LoUs without making any entry in the bank records or taking any approvals," said a CBI official.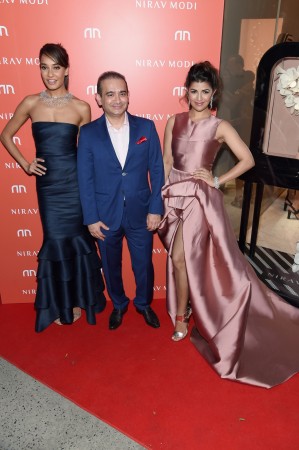 The official also said: "The overseas branches of Indian banks were instructed for raising the buyers' credit and funding the NOSTRO accounts (an account that a bank holds in a foreign currency in another bank) of PNB. The funds thus raised have not been utilized for the said purposes in many cases. Eight LoUs were issued in the name of the Hong Kong branches of Axis Bank and Allahabad Bank, and an amount of Rs 280.70 crore was released in foreign countries. The banks officials suspect that more transactions might have been committed by the accused. An inquiry is still on."
The 47-year-old Nirav Modi — the country's foremost diamantaires and a billionaire — has made it to Forbes' list of richest Indians repeatedly. His net worth, according to the finance magazine, is $1.84 billion. The founder of the $2.3-billion diamond sourcing company Firestar Diamond launched his own brand with 16 stores in locations such as Delhi, Mumbai, New York, Hong Kong, London and Macau. He has reportedly purchased the iconic Rhythm House to set up his jewelry boutique.