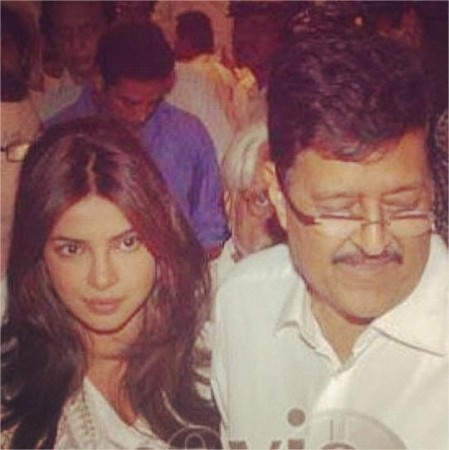 Bollywood actress Priyanka Chopra's father, Dr. Ashok Chopra breathed his last at Kokilaben Dhirubhai Hospital, Mumbai on Monday.
Dr. Chopra had been suffering from cancer since 2008 and was admitted to the hospital in a critical condition a few days ago.
The 30-year-old actress, who was known for her closeness to her father, was said to be round the clock beside him in the hospital despite her film assignments.
According to reports, the actress had organized a 'puja' at her place on Friday for her father's health.
Dr. Chopra, a physician with the Indian Army, had been keeping unwell for the last few days. He had previously fallen ill in 2005 when Priyanka was shooting for Rohan Sippy's "Bluffmaster".
Priyanka was last seen publicly with her father at the TOIFA awards 2013. She has inked 'Daddy's lil girl' in her wrist to showcase her special bond with her father.
As the news of Priyanka's father's demise broke, several celebrities took to twitter to pay their respect.
Bipasha Basu: Strength to u @priyankachopra n ur family.
Neha Dhupia: So so sad to hear about your loss @priyankachopra ... Condolences to u and your family. Sending u tons of love n energy to get past this.
Genelia D'souza: Deepest and Heartfelt condolences 2 dear @priyankachopra, your mom n ur fly.. All the strength 2u
FarhanAkhtarFC: Deepest condolences to u @priyankachopra .Strength, love and support to you
Vishal Dadlani: I'm so sorry, @priyankachopra . Strength, love and support to you.
Sophie Choudry: Love,prayers & strength @priyankachopra to u & the family.. Ur daddy was the sweetest man & he cldnt hv asked for a more lovin daughter. RIP