Global icon Priyanka Chopra never fails to win hearts with her beauty as well as with her charm during interviews. But being a celebrity is not easy and they have to think before saying anything personal in public.
Priyank recently gave an interview to Femina magazine and she was quoted referring to her ex as MF in it. "I call him MF," read Priyanka's quote from the interview titled 'I'm all about girl love' in the magazine, dated November 9.
This raised eyebrows, which also made PeeCee upset. So, the magazine reportedly misquoted her and now, they have issued an apology to the actress.
"The part being withdrawn refers to a statement attributed to Priyanka that she never said, in her response to question regarding the owner of the infamous jacket in context to a previous relationship," Femina stated in the apology.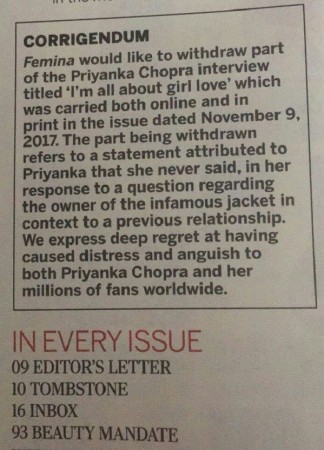 The entire context was related to Priyanka's infamous brown jacket, which she once said belongs to one of her ex-boyfriends.
Priyanka had appeared on the Hollywood chat show, Dirty Laundry in May this year and had revealed that she still uses her ex-boyfriend's brown jacket. At the interview, the diva was wearing the same jacket.
Speculations were rife that the jacket belonged to Shah Rukh Khan as he was seen wearing it earlier. At that time, Priyanka didn't react to the rumours, despite fans came up with the pictures of SRK (Priyanka's alleged ex-boyfriend) wearing the same jacket.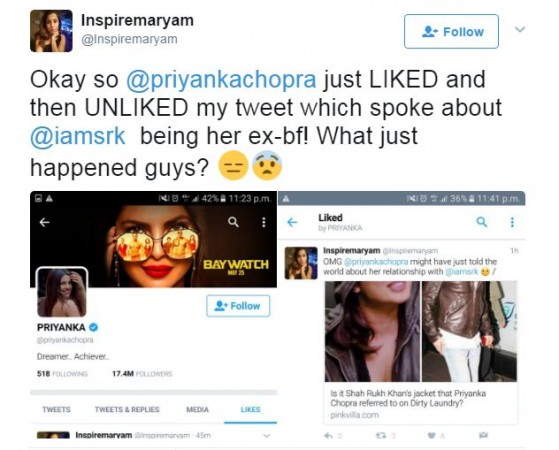 She had said: "Things get exchanged. But this one I really loved because it kind of became mine. It stopped being him like after it stayed back in my house once and I just kind of wore it."