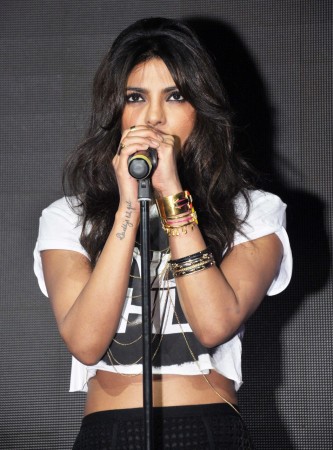 Former Miss World Priyanka Chopra appears to be upset with reports of a biopic being planned on her by former boyfriend Aseem Merchant.
It was recently reported that the actress' former flame and model Merchant was planning a film on her, which would chronicle her early days in the industry. The film will focus on the period that Prakash Jaju worked as her manager.
On the occasion of the actress's newest single "I Can't Make You Love Me" launch in Mumbai on Monday, she was asked how she felt about the biopic.
While the 31-year-old initially refrained from commenting on it, when prodded further, the actress was clearly cross with the development.
"It would be extremely flattering for me if someone would make a biopic on my life, but this particular situation makes me very angry as I know what my family and I went through during that phase of our lives and what upsets me is that people want to glorify something which was a painful part in my life. I think it's extremely disturbing," PTI quoted Chopra.
It is well known that Chopra and Jaju were drawn into a legal situation, when the latter had claimed that the actress owed him a large amount of remuneration and also blamed her for non-payment of dues.
However, Jaju was eventually arrested and spent over two months in jail after Chopra's late father filed a police complaint alleging false claims and threatening family members.
She further gave a reference to her present project "Mary Kom" which too is a biopic on the Olympic medallist boxer.
"I am doing a biopic on Mary Kom's life and she has sat with me on every scene that I have shot and has told me her emotions that she felt during a particular situation," the actress explained making it evident that if the Merchant made the biopic, he would clearly bring back those unpleasant memories that would disturb her.
[ED:VS]