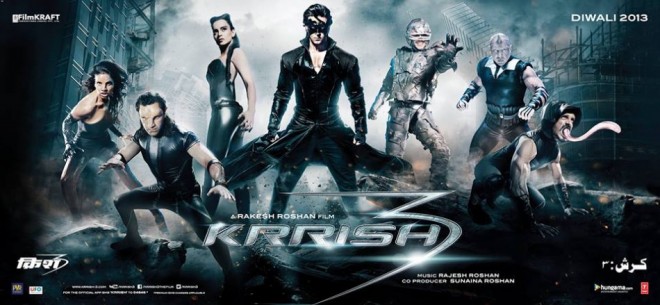 The much anticipated superhero flick "Krrish 3" has gotten all the more interesting with reports stating that the female lead Priyanka Chopra will be seen in a dual avatar.
Priyanka Chopra who had played the masked superhero's love interest Priya in the film's prequel will be shown as Krishna aka Krrish's spouse in "Krrish 3."
But herein lies the twist, as PC's is more than just a goody role with reports stating that a darker aspect of her character will be seen.
"When PC was offered the role as Krrish's wife, she hardly had any scope to emote. When she learnt that the other actress Kangana has a role with more layers, she asked for meat to be added to her part. And thus her new character was written by director Rakesh Roshan," DNA quoted a source.
"Priyanka will be seen in two roles - a good one as Krrish's wife and one which evolves into another person which is pure evil. All will be revealed in the climax. PC's good and bad characters are expected to be one of the highlights of the film."
Priyanka's double role twist has added a new dimension to the science-fiction film's plot, which has already grabbed viewer's attention with the Hrithik-Kangana romance angle.
Interestingly, Hrithik, himself will be seen in a double role in the film playing Krrish as well as his father Rohit at the same time. Additionally, the alter-ego of Krrish is Krishna so he literally takes on three separate parts.
The double role twists seems to be the new climactic trend of the upcoming flicks. Aamir Khan who plays a baddie in "Dhoom 3" too is said to have dual avatars, which would make up the action flick's climax.
Even Saif Ali Khan and Bipasha Basu's upcoming film "Humshakal" plays on the theme of multiple roles. The film reportedly has Saif and Ritesh Deshmukh in triple roles.