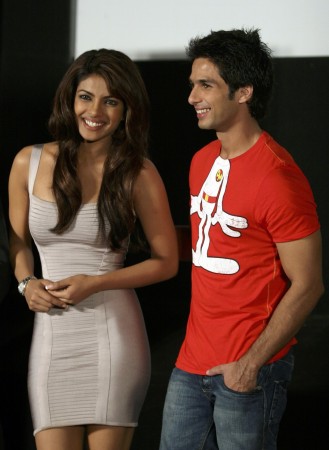 Bollywood actress Priyanaka Chopra apparently shares a cordial relationship with her former boyfriends - Shahid Kapoor and Harman Baweja.
Recently, reports were doing the rounds that the actress-turned-singer partied with both Shahid and Harman at the latter's house in Lokhandwala. Confirming the reports an eyewitness said, "Priyanka drove in with Shahid in his car and quietly slipped into Harman's house. The duo spent a good amount of time and came out only later in the night," The Times Of India reported.
Revealing that the trio often partied together at Harman' s residence the eyewitness added, "The three of them always look extremely comfortable in each other's company, despite the complex relationship dynamics."
The reports of them partying together came soon after Shahid was said to have hosted a grand party for the former Miss World two days before her birthday. But he brushed off the reports saying that the party was not specifically thrown for her.
"I only threw a party. Priyanka's birthday happened to be two days later. It was not a party for her. There were many people who attended it and she was merely one of the guests at my party," Shahid said.
Rumours of Priyanka dating Harman surfaced during the shooting of their 2008 release "Love Story 2050". Later, the couple parted ways and Priyanka was linked up with Shahid. Although the relationship between them did not last long, they maintained a friendly relationship.
While Harman is rumoured to be dating Bipasha Basu, Shahid is said to be seeing "Gangs of Wassaypur" fame Huma Qureshi.