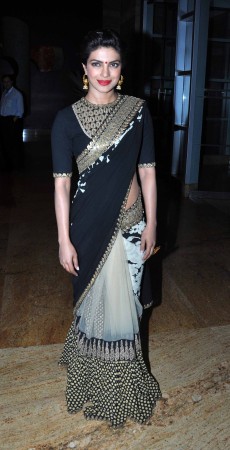 Priyanka Chopra has often brightened up the red carpets with exquisitely designed saris and has voraciously expressed her love for them. Taking this love to the next level, Chopra is going to drape these nine-yard wonders and step out for the world to see, in the capacity of a proud ambassador.
It has been officially announced by the ministry of textiles that the national award-winning actress has been roped in as the brand ambassador for Banarasi saris. The decision was made in the wake of fund allocations made by Prime Minister Narendra Modi for the handloom sector in the Union Budget. During his electoral campaign, Modi had promised Banarasi silk sari weavers that he would make a brand of the saris, which are representative of the Indian culture and heritage.
With an undeniably popular star with a global fan following like Priyanka Chopra endorsing the Banarasi saris, the demand for them is sure to increase.
It would be some time before the entire promotional scheme takes shape, but "it is likely to include ad campaigns, putting up hoardings at vantage points and other measures for promotion of the Banarasi saree. The idea is almost similar to that of Amitabh Bachchan being roped in for Gujarat Tourism," said assistant Director (Handloom and Textiles), Varanasi Division, Ministry of Textiles, K.P. Verma to The Indian Express.
The weavers of these saris have often complained that they do not enjoy exposure to bigger markets. The tradition of weaving these saris is almost 800 years old, and they have been in demand for centuries from almost all parts of India. However, during the past two decades, this art and industry have declined rapidly in the face of increased competition from cheaper alternatives.
"Priyanka won't only be the brand ambassador but will also help Banarasi saris gain prominence in the fashion world," Union textile secretary Zohra Chatterji said during an interaction with media persons in Varanasi on Wednesday, News18 reported.
While the Bararasi silk saris would be at the forefront of this branding, the larger branding by the actress would be for the Indian handloom industry.
The Union government is also supposedly toying with the idea of opening a National Institute of Fashion Technology (NIFT) in the temple town after which the products of the weavers in the city would be "integrated and upgraded" with the help of the institute, officials informed.