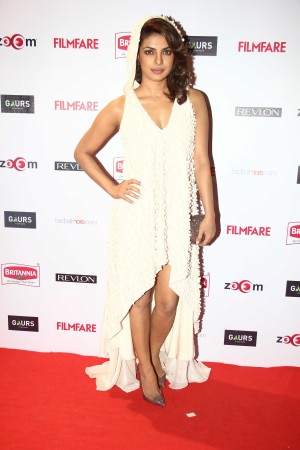 Priyanka Chopra might not be signing too many films every year but she sure knows how to keep the bank balance going.
According to a Bollywood Life report, PC has charged a whopping ₹25 crore for an ABC Studios show. It is being said that the actress-singer will jet off to Los Angeles soon for her three-month long stay in a plush villa arranged by the production house.
However, what is a gigantic sum of money for some is 'underpaid' for Piggy Chops. "Women are underpaid everywhere. Even in Hollywood, compared to the men, women are underpaid. Very few women are such who get paid as much. I think we live in a male-dominated world. If you are vying for the same position, women just get paid less," BL quoted the actress as saying.
While it is being speculated that it might be a women-centric show with Priyanka playing a central character, the "Mary Kom" star denied rumours saying ideation is on. "Just as an actor to be able to be signed and then watch someone develop something for me personally, sit there with the most incredible writers, directors and producers of global television today and ideate; its really cool," she said.
This isn't the first time that she has allied with western talents to churn creative products. She has released 2 hit singles – "Exotic" and "In My City" – with Pitbull and will .i. am. Her third single "I Can't Make You Love Me", however, wasn't a chartbuster but has close to 7 million hits on YouTube.
In other news, Priyanka will be next seen in Sanjay Leela Bhansali's "Bajirao Mastani" co-starring Ranveer Singh, Deepika Padukone. She has also signed "Gangajal 2" and "Madamji" in which she essays the role of a cop and an item number dancer, respectively.