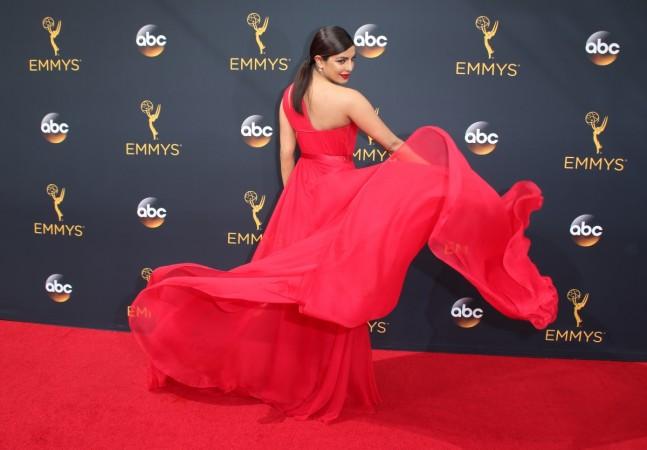 Priyanka Chopra on Wednesday sat down with Jimmy Fallon to talk about her Emmys 2016 dress that had her twirling all night.
The Quantico actress was dressed in a bright red one-shoulder Jason Wu gown and got the immediate attention of paparazzi waiting to photograph her on the red carpet with some fancy footwork. Chopra decided to twirl to display the beauty of her dress, and once she started, she couldn't stop.
"I walked out with this big train and I did it for the first time cause it's so pretty and I felt princessy and after I twirled once I was doing it all night!" Chopra told Fallon. "All of the photographers were asking me to twirl and then onstage Tom [Hiddleston] made me twirl and I was always only twirling. I'm the twirling dancing emoji now!"
Chopra and Hiddleston painted a cute picture together as presenters at the Emmys and their apparent flirting at the after-party has resulted in romance rumours. But are they really dating? No, as per a HollywoodLife source.
"Look, she's stunning and it is almost impossible not to flirt with her when you talk to her because she is so beautiful and so nice," a source told the media outlet. "And add that Tom is so charismatic; That together — It was lightning between the two. But, it was way more friendly than romantic. They are not a couple."
Till recently Hiddleston was involved with singer Taylor Swift. The duo got together shortly after the Met Gala in May and played out their romance in the public eye. However, they did not succeed in keeping the romance alive, and split up just three months later.
Just days after Swift and Hiddleston parted ways, the Thor actor was spotted seemingly flirting with a mystery blonde down in Australia, according to the Mirror. The mystery woman was facing away from the camera and pictures that have since been released show Hiddleston smiling down at her.