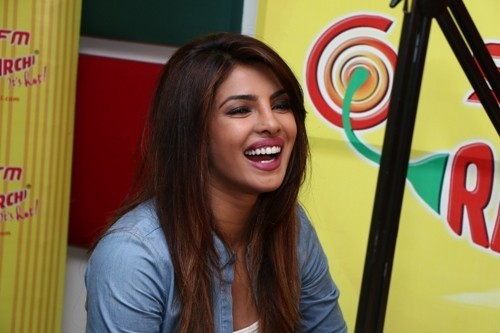 Recent reports had hinted at the ongoing animosity between Priyanka Chopra and her newbie cousin Meera, who will soon make a Bollywood debut in horror-comedy "Gang of Ghosts."
During the film's making, it came up that Meera did not share a warm equation with Priyanka. Later, Parineeti Chopra too in an interview had revealed that Meera was not her cousin and she was not in touch with her.
While Priyanka has till now supported Parineeti's streak in Bollywood, and even stood up for another of her soon to debut cousin, Barbie Handa, she had not spoken about Meera until now.
However, the "Gunday" actress appears to be making amends and on 3 March tweeted about the trailer of Meera's film.
My sisters first Hindi movie! Chk it!!! RT @MeerraChopra: http://t.co/DAH5evfe9m

— PRIYANKA (@priyankachopra) March 3, 2014
The post was further retweeted by Meera herself via her account. Priyanka's sudden friendly gesture towards her cousin makes us wonder whether the talented actress has reconciled with Meera. The "Gang of Ghosts" actress too dismissed reports of tension between the two and said that she admired her elder sister. "Priyanka is the only superstar in the family and she will always be the only one. I have her unconditional support. She is a girl with a golden heart and I am lucky to have her as family," Meera told Mid Day. Meanwhile, the former Mss World, who is busy shooting for the Mary Kom biopic is eager to participate in her cousin, Saurabh's wedding.
The actress recently posted a collage of pictures of her family attending the wedding functions in Delhi and captioned, "Miss you family!!! Be there soon!"
Missing mere brother Saurabh ki shaadi celebrations in delhi!The whole family is there!Grrr! Can't wait to go.Full chopra style gaana shaana — PRIYANKA (@priyankachopra) March 2, 2014