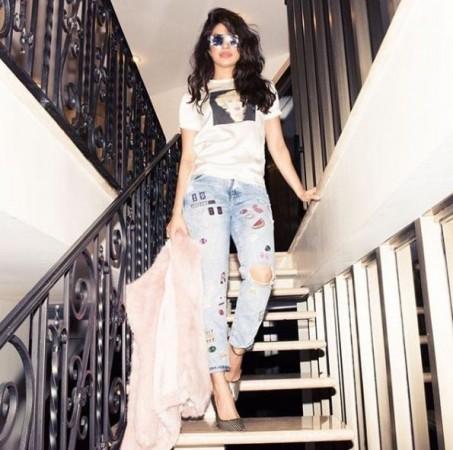 Priyanka Chopra, who just wrapped up the filming of American television show Quantico, has paid a visit to India recently.
Read: Baywatch Hindi trailer: Priyanka Chopra reveals the reason behind 'Chal Na Katrina' line
Fans might have thought the actress would take a break before she joins the promotions of Baywatch. But that wasn't to be.
The actress has graced the cover of the latest issue (June 2017) of Glamour magazine. Priyanka has gone summery wearing off-white briefs and an over-sized green crop top and looked super glamorous.
The beauty queen shared the cover picture on her Instagram and captioned it: "Hello Summer! Thank you @GlamourMag for a beautiful June cover! It's a great way to kick of the official Baywatch countdown...25 days to go! #GlamourCoverGirl #BeachReady #BeBaywatch"
She plays villain, Victoria Leeds, in Baywatch. The flick also stars Dwayne Johnson and Zac Efron.
Despite her back-to-back Hollywood projects, Priyanka is keeping a tab on the Indian industry as well. The roaring success of Baahubali 2 has impressed the actress and she even congratulated the team on Twitter. "Congratulations @ssrajamouli Sir on another spectacle! May u keep the flag flying..@karanjohar congrats!. #Baahubali2," she tweeted.